Don't Stop Living - Jonny Blair - a lifestyle of travel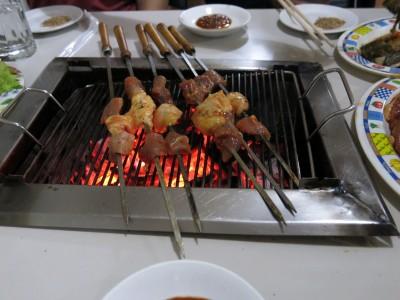 Friday's Featured Food: Barbecued Lamb Restaurant in Pyongyang, North Korea.
When you travel in Korea there is an obvious difference between North Korea and the south. It's not just the political, commercial and geographical differences that become apparent. Gastronomically they are hugely different. I haven't yet written about my food experiences in North Korea yet. In fact my last Korean food post was about eating dog in Seoul, South Korea. That night was enough to put me off eating any form of Korean food ever again. However in 2013 I found myself backpacking in North Korea and we tried a load of local dishes.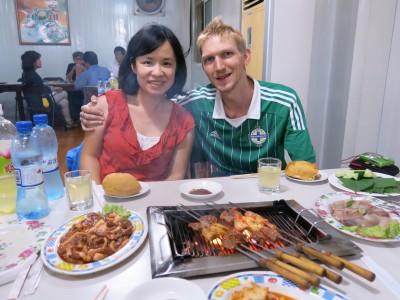 Panny and I loving our barbecued lamb experience in North Korea's Pyongyang.
Not being a fan of Asian food makes it hard for me to big this type of cuisine up but here goes.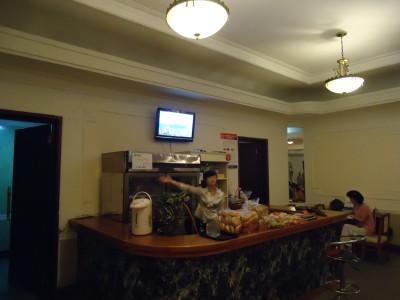 Arrival at the downstairs "pub like" part of the Barbecued Lamb Restaurant in Pyongy.
North Korea's capital city sucks you in with its blatant and overtly subliminal anti-western message : fuck big companies. You certainly wont find a Pizza Hut, 7/11 or a McDonalds here. Which is a good thing. Sadly South Korea succumbed to commercialism long ago which kind of gives the North slightly more authenticity when it comes to Korean food, at least in this eyes of this global backpacker.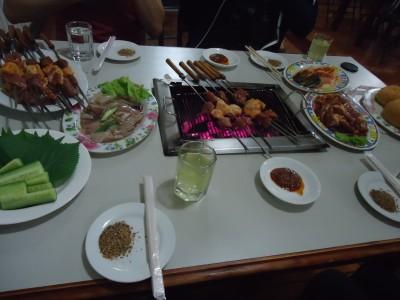 Or table for the barbecued lamb experience in Pyongyang, North Korea.
While Seoul and Busan boast more international restaurants than you can shake a cock at, North Korean capital Pyongyang has a few scattered Chinese restaurants and an Italian restaurant. So when you're backpacking through this beast you get used to average Korean food. Today is the first ever Friday's Featured Food from the DPRK and we're having barbecued lamb in downtown Pyongyang.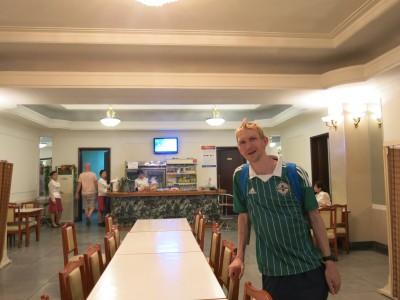 In the "pub like" downstairs section of the barbecued lamb restaurant.
We are on a guided tour with YPT (click here for 5% off their tours) and our bus drops us outside the restaurant. I ask our guide Chen what the name of the restaurant is. Her reply "it's called the Barbecued lamb restaurant", so we'll stick to that, as unofficial as it may sound.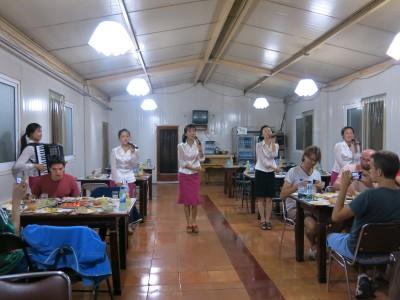 Upstairs the dancing and music starts.
Downstairs is a basic yet relaxed bar. All you'd need would be Guinness on tap and football on the telly and this would make a decent pub. While the local lads sit drinking and eating, we head on upstairs and take our seats.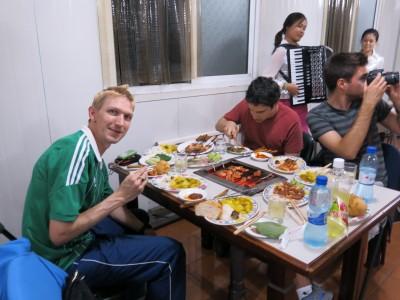 At our table which includes Aaron and Mike, from the USA.
My girlfriend Panny Yu and I are joined by 2 North American travellers for the barbecued lamb feast – you get used to being with other foreigners on North Korean tours. There are a few reasons for this – the privacy factor that the government infringe on foreign visits and also the fact that the locals don't really get the whole eating out thing – restaurants in Pyongyang are few and far between. It's an "eat at home" type of culture here.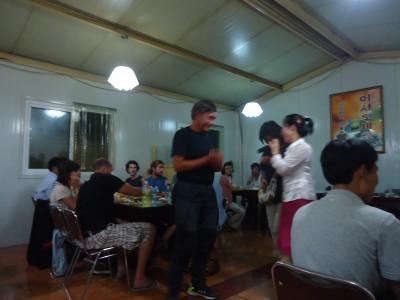 It's not just about the food – the North Koreans dance and sing and get us up to join in.
It's not all about eating though. Beer is served, live music arrives and Korean dancing begins.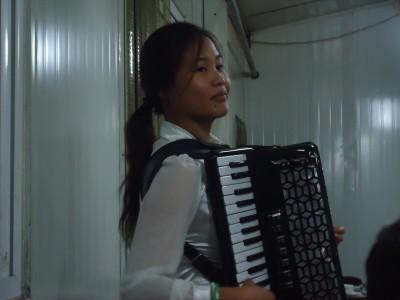 Live Korean Music in the Barbecued Lamb Restaurant.
The meal itself is the best we have in North Korea. I love lamb, after beef it's my favourite meat. In Korean style we barbecue everything ourselves.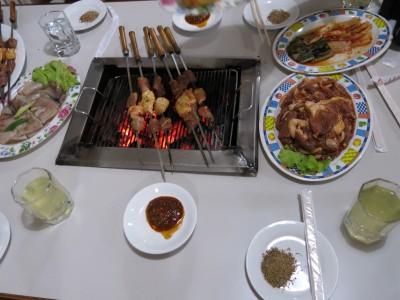 Barbecueing our own lamb at the table in Pyongyang, DPRK.
The meal consists of:
- side plates with mint leaves and sliced cucumber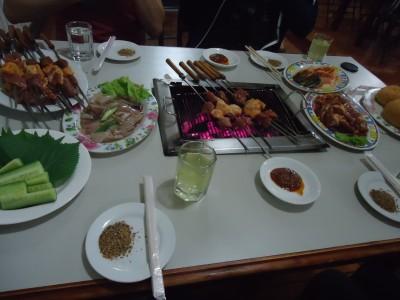 You can see the mint leaves and sliced cucumber here.
- lamb meat on skewers which we barbecue ourselves
- spice to add to the cooked lamb
- kimchi (we're in Korea remember)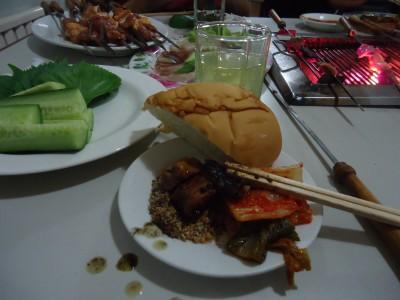 Bread is also served along with predictably, kimchi.
- bread
- side dish of rice and a potato curry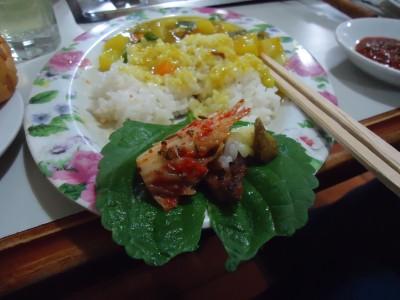 The barbecued lamb wrap and potato curry.
- squid for barbecueing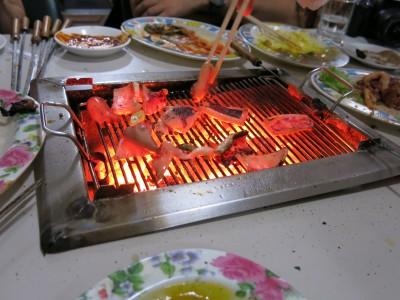 Barbecuing Squid in North Korea.
We wrap the barbecued lamb with some cucumber, kimchi and spice into the mint leaf and eat it like that. It's an all you can eat and the food keeps coming. I'm not a fan of squid but I eat some anyway.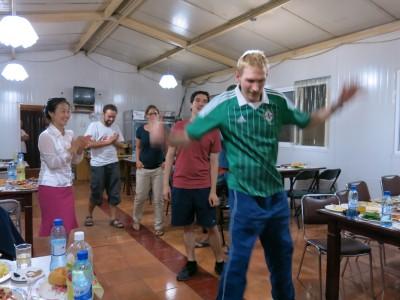 Silly dancing in Barbecued Lamb Restaurant, Pyongyang.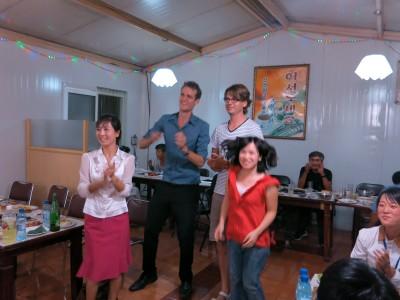 Panny Yu up dancing in the Barbecued Lamb Restaurant in Pyongyang, North Korea.
Then we all have to get up and do a silly dance. It's all a good laugh and a far cry from this land of dangerous nuclear weapons the media sadly portrays. After finishing our meals, we are able to have a beer downstairs with the locals while we wait for everyone to get back on the bus before heading to the Diplo Club for the nearest thing we get to a Pyongyang Nightclub experience.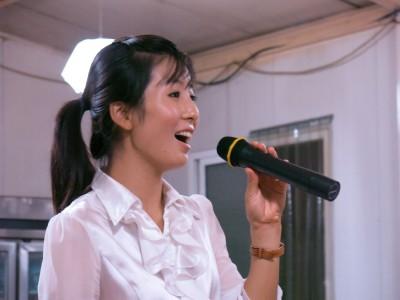 One of the Korean ladies in full voice.
The Diplo as well as the Barbecued Lamb Restaurant both made it to my best bars in Pyongyang post. It was a good night out and great food amongst hospitable North Korean hosts.
Here are my videos from the lamb barbecued restaurant in Pyongyang, North Korea:



Original article: Friday's Featured Food: A Night at the Barbecued Lamb Restaurant in Pyongyang, North Korea
©2014 Don't Stop Living. All Rights Reserved.