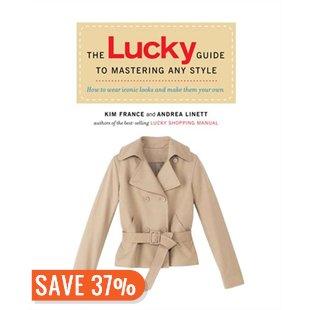 This year, I have been trying to revamp my wardrobe a bit to try to accomodate all of my lives (office, casual, slob, work out).   They have always been so disconnected from each other that it has been as though I am needing to maintain 4 separate wardrobes and I hate it.  I bought myself a handful of books to get a little bit of help and this one was amongst those I picked out because of the high reviews.
Essentially, the book breaks down style into a iconic looks and gives examples of how to achieve the look yourself, including profiles of stylish people who dress that way and examples of wardrobe pieces to select.
The looks include:
Euro Chic
California Casual 
Rock and Roll 
Posh Eclectic 
Mod 
American Classic 
Bombshell 
Arty Slick 
Bohemian 
Gamine 
I found this book a bit too magazine-y and boring as a read.  I think perhaps the fact a magazine put it out should have been the big tell, but I also bought the book online and had I had a chance to flip through it in person, I probably wouldn't have bought it.
For someone looking for outfit ideas that fit into those styles - the book is full of photographs and ideas.  It just wasn't a good fit for me.  It pretended to focus on developing a personal style, but it was obviously developed by finding women who they liked the style of, categorizing them and then building a tribute to them through this book.  Into the sell pile it goes.