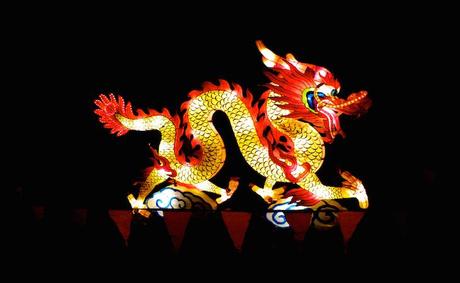 This Friday I'm featuring superb photograph from Lantern Festival in Christchurch, New Zealand. Taken by Karen Warren from WorldWideWriter Blog. Karen runs another blog called Bewitched By Italy. I have always wanted to attend Lantern Festival somewhere around the world.  And I have always been impressed by people who run more than one website! I have only this one and hardly ever on top of my 'to do' list! Please follow Karen on Twitter and Facebook.
Picture Story: Lantern Festival in Christchurch, New Zealand
We've all seen Chinese lanterns, bright red shades swaying in the wind outside buildings in just about every Chinatown area anywhere in the world. But at the Lantern Festival in Christchurch, on the South Island of New Zealand, there were thousands upon thousands of lanterns of every conceivable design.
It's a festival that takes place right across New Zealand to celebrate the Chinese New Year. Not at the New Year itself, but at the first full moon afterwards. The middle of February would have been chilly at home, but here in the southern hemisphere it was a good time of year for outdoor festivals, a long warm summer evening. It was raining on the second day, but that's another story!
It seemed as if the whole of Christchurch had turned out for the event. Including a very sizeable Chinese community. It is obviously very popular, attracting people from outside the city. We talked to a woman in a café the other side of the Port Hills, the hills that separate the city from the sea, who was planning to take her family to see the lanterns, whether it rained or not.
And you can see why. Marquees with every sort of Chinese food; traditional entertainment; and of course the lanterns themselves. Strung between the stalls and the marquees and hanging from every tree. Each tree had its own theme, perhaps a series of storks climbing the branches, a couple of swans, or delicately painted lanterns discreetly displaying the logo of a sponsor.
Around the edge of the park the lanterns got bigger, forming complete tableaux. There was a woman with a kimono and a fan, a triumphant dragon and, of course, all the creatures of the Chinese zodiac. We turned to leave, past the crowds still arriving, and walked along the river. There was a further surprise: the water was full of floating lanterns: birds, fishes and a sea monster with several humps.
PS. Wish to be a part of Friday Lens Affair series? Drop me an email! Love this photograph from Lantern Festival in Christchurch? Brings memories or some special ideas. Do tell me about them in the comments below.