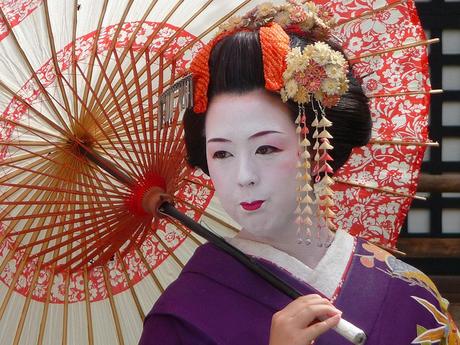 This week I'm hosting a great picture by Jessica Bissot from Onward with Passion Blog, Japan is a place where I really want to go one day, that is why this picture have streaked my eye! You can follow Jess on Twitter and Facebook. Please do! :) 
Picture Story: This beautiful picture was taken in Kyoto, Japan while I was strolling through the city looking for how to get to Kiyomizu-Temple. Well, what can I say, I got lost in the big city of Kyoto and took the wrong direction. Luckily, it brought me to a secret Geisha spot.
It was a little, narrow street going uphill, when I passed a small temple. First, I just saw the temple and admired the site and its decorations. A short time later, a photographer approached me asking me to step aside in the overall most friendly Japanese way. 
I then realized that I was "intruding" a Geisha photo shooting. I excused myself for being in the picture and stepped aside.
Wow, I was behind the scenes now and kept watching a team of photographers, stylists and Geishas. It was amazing and such a special moment, I was so glad that I got lost in the end as it brought me to this great location. 
It remains a special memory still leaving me in awe. The Geishas were amazing with their outfits, their looks and their attitude!
PS. You wish to be a part of Friday Lens Affair series? Just drop me an email! Like this photography? Please Share & Enjoy!