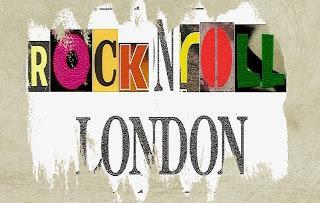 Friday is Rock'n'Roll London Day! Join the Rock'n'Roll London walk this (and every Friday) afternoon at 2:00p.m meeting at Tottenham Court Road Station
Adam writes…
Yesterday I took the time to dawdle with my camera through Belgravia and Chelsea on the way to lead my Old Kensington Walk and I happened upon Chelsea Cloisters…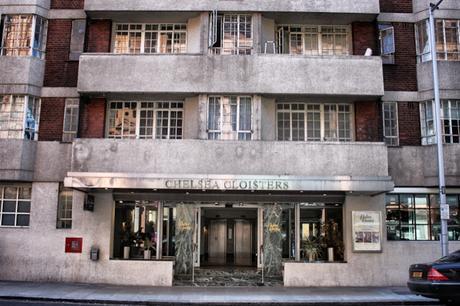 … the last known London address of Syd Barrett.
As is often the case with Pink Floyd's original songsmith, the tales of his life at Chelsea Cloisters paint a troubled picture. Legend has it that he sat in his flat for days-on-end with seven TV sets all going at once; some say he rented two apartments, one in which to live, the other to keep scores of expensive guitars, none of which he ever touched. It is said when he did touch them, it was to give them away for free. 
This reclusive denouement to his London years – his life played out in his native Cambridge from about 1982 – is punctuated by sightings of a shaven-headed Syd, an overweight Syd, even Syd in drag.
He was living at Chelsea Cloisters when he turned up, bald and unrecognisable even to his former colleagues in Pink Floyd, while they worked on 
the 
Wish You Were Here 
album at
Abbey Road
. Legend has it that the track that the Floyd were working on at the time was Roger Waters' tribute to his erstwhile band mate
Shine On You Crazy Diamond
.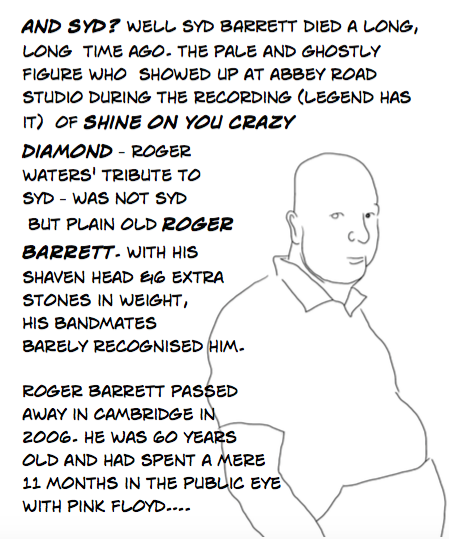 Detail from The Rock'n'Roll London Comic Book issue 1 starring Pink Floyd
Legend has it
… 
Some say
… 
It is said
…The story of Syd Barrett is littered with such qualifiers and we may never now separate the myth from the real story.
This year is the 10th anniversary of Syd's death – he would still only have been 70 years old. This month's
Mojo
magazine features Syd as its cover star and is one of the most enjoyable Syd reads I've come across in a long time.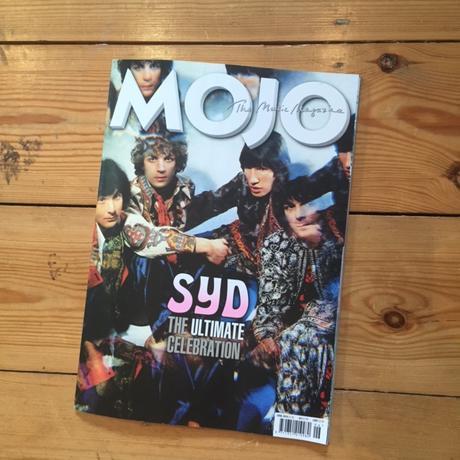 Sure, the mythical stuff is there – it's woven into the fabric of the tale now – but the focus is on the music. There is a particularly moving interview with Syd's sister. It's on sale now.
Syd is also the cover star of the Rock'n'Roll London Comic Book Issue 1 – my comic book and self-guided Pink Floyd tour of London (see also frame above).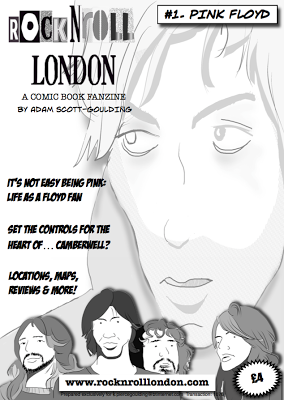 You can download a free 6-page sample HERE. You can download the full version for 99p HERE. A limited edition print version is also available HERE and from Orbital Comics in Great Newport Street WC2.
You can also book a private Pink Floyd London Tour for your party, for a Fathers' Day gift or special occasion. Taxi tours are also available. Contact London Walks direct on 020 7624 3978
Here's the trailer for the
Rock'n'Roll London Walk which meets at 2pm Tottenham Court Road station every Friday
. From May to October 2016 there's also the
Rock'n'Roll London Pub Tour, Wednesdays nights at 7pm
also from Tottenham Court Road station.…
A London Walk costs £10 – £8 concession. To join a London Walk, simply meet your guide at the designated tube station at the appointed time. Details of all London Walks can be found at
www.walks.com
.