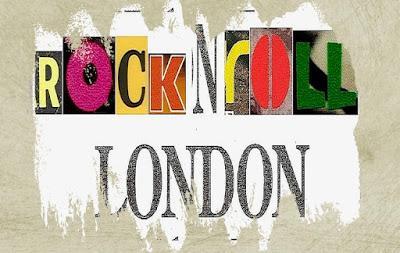 Sunday 15th June is Fathers' Day here in the UK.
When picking a gift for your old pa', do take great care to keep in mind what the Grumpy Old Fart DOESN'T want to be unwrapping on the one day of the year dedicated solely to him…
WHAT HE DOESN'T WANT
• He doesn't want a compilation CD from the checkout at the supermarket – Jeremy Clarkson's 40 Favourite Death Metal Anthems, or some such. This is the equivalent of buying a hasty bunch of petrol station flowers for Mothers' Day. Don't do it.
• He doesn't want a badly made and unofficial Led Zep t-shirt that will shrink after the first wash and show off his moobs.
• He doesn't want a copy of "An Insider's Story of The Beatles" by a man whose only connection with The Fabs is that he once fixed the big end on John Lennon's psychedelic Rolls Royce.
WHAT HE DOES WANT
• He wants a 1956 Fender Telecaster. But he can't have one because they cost THOUSANDS AND THOUSANDS OF POUNDS.
So why not book him a Rock'n'Roll London Walk with London Walks?
Pick a date, call London Walks (020 7624 3978) or email (

[email protected]

) to arrange the booking.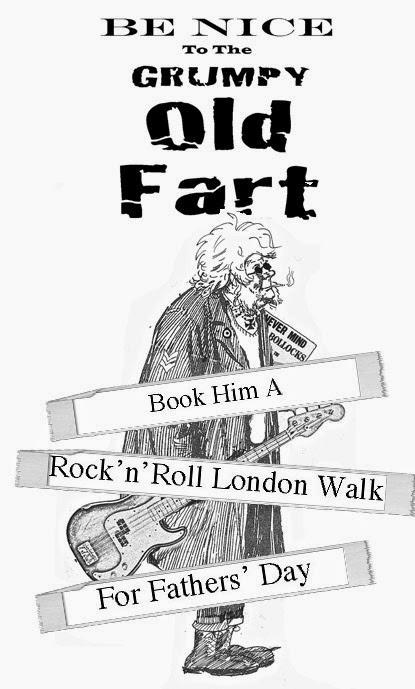 A private Rock'n'Roll London Walking tour costs £130 for up to 22 people – bring family and friends and spread the cost (NB. Don't make The Grumpy Old Fart pay: he pays on the other 364 days of the year, this is his day off.)
Alternatively you can bring him along to any of the public walks, which take place every Friday at 2:00pm and every Wednesday at 7:00pm.
You could even just send him along on his own. That way The Grumpy Old Fart gets two hours of peace and quiet to talk Rock'n'Roll with his guide and fellow Rock'n'Roll Walkers – and you get a break from The Grumpy Old Fart who will return home feeling slightly less grumpy for as long as half-an-hour. It's win-win.
To book a Private Rock'n'Roll London Walk for the Grumpy Old Fart in your life call 020 7624 3978 or email [email protected]
And here

'

s our own Rock

'

n

'

Roll London video

…





REMEMBER: THE ROCK'N'ROLL PUB WALK IS BACK!





THE ROCK'N'ROLL LONDON PUB WALK! EVERY WEDNESDAY NIGHT AT 7.00PM MEETING AT TOTTENHAM COURT ROAD STATION (EXIT 3).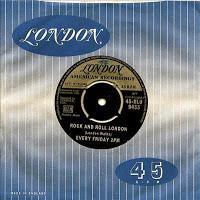 Join the Rock'n'Roll London Walk on Friday at 2pm

, meeting at Tottenham Court Road Station (Exit 3) – to book a Private Walk call 020 7642 3978 or email

[email protected]
A London Walk costs £9 – £7 concession. To join a London Walk, simply meet your guide at the designated tube station at the appointed time. Details of all London Walks can be found at
www.walks.com
.