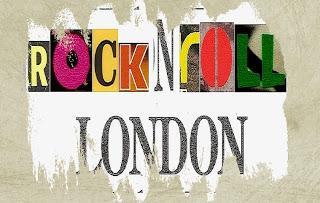 Friday is Rock'n'Roll London Day! Join the Rock'n'Roll London walk this (and every Friday) afternoon at 2:00p.m meeting at Tottenham Court Road Station
Adam writes…
I'm currently re-reading England's Dreaming, Jon Savage's forensic account of the whys and wherefores of English punk rock. It's a cocktail of nerdy detail, informed music criticism and deftly drawn political context peppered with a few excerpts from Savage's own diaries of the time.
I was reminded about the book when I added it to the Rock'n'Roll London Reading list here on the Daily Constitutional earlier this year. 
It's one of the best books on 20th Century music out there and I'm thinking that when I get to the end I might just turn back to page one and read it all over again. Which will put my Return to Fiction back by at least another two weeks.


Yes, my Return to Fiction. It's a thing.


Back in January I resolved to read more fiction, having spent the last couple of years regressing to my teenage habit of devouring pop and rock biogs to the exclusion of almost everything else. Suffice to say my RtF is not going at all well. Fiction has even been given the bum's rush at my daughter's bedtime – we're currently reading Hunter Davies's Authorised Biography of The Beatles together. Albeit it in a mildly bowdlerised version. (Her fave bit so far is when the Fabs reconvene after their late '66 sabbatical to do Sgt Pepper and they've all got moustaches.) My quest to widen my vista has not been helped of late by the blog My Friend's House. One of my favorite blogs, its remit is wide indeed. Ostensibly an interiors blog, it takes design as its leaping off point and looks at everything from literature to travel, from love to politics, social diversity and fine art. It's a total inbox thrill: what will I get today?


A couple of weeks ago there was this excellent piece on Joni Mitchell… "The wind is in from Africa, But last night I couldn't sleep…" The lovely opening bars of Joni Mitchell's Carey were in my head while I was in Corfu. They've been in my head every time I've been to Corfu, or any other island – including the one in Scotland. Carey is a beautiful song, a joyful dance-about from the largely mournful album Blue. The song is set on what I had actually assumed to be a Balearic island, and it's full of little vignettes that spring into my mind from time to time. It paints a perfect picture of the boho lady traveler. She's thinking of leaving because she misses her 'clean white linen and fancy French cologne.' She daydreams of going next to Rome, saying "I'll rent me a grand piano and put some flowers round my room." And although even a Bontempi wouldn't get up the stairs here, that line echoed in my head when we first moved and I wanted the place to feel nice. Put some flowers round the room. Get out some clean white linen….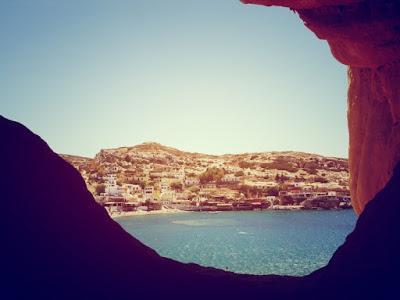 Anyway, I have just found a brilliant article that tells the real story behind the song. The setting is actually Matala, on the Greek island of Crete. At the time the place was a hippie enclave, with people sleeping in Neolithic caves cut into the cliff. The picture of the beds below – according to Joni troughs cut into the rock, filled with pebbles and sea grass – makes you understand her hankering for bed linen all the more acutely.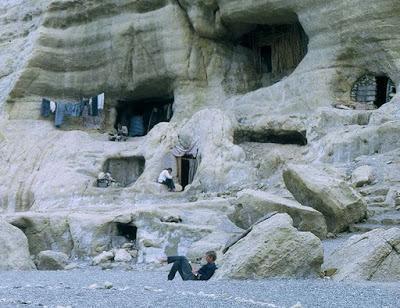 The feature, based on a recent interview, illuminates that the song is much more literal than I had expected. The Mermaid Cafe really existed, full indeed of freaks and soldiers. And Carey himself really did carry around a cane. There's even a picture of him with Joni, resplendent in his Mean Old Daddy-ness.
Read the full story here www.myfriendshouse.co.uk

And just last week there was a post on Patti Smith's new house on Rockaway Beach – a line to thrill fans of Smith and The Ramones both and a little more in keeping with my current reading material (see above). In terms of music, over the years My Friend's House has nodded to everything from hip hop to Hendrix with even a bit of Kander & Ebb and - the best tradition of 70s K-Tel compilation albums – many, many more. It's the thing I love most about My Friend's House – their core subject is interiors and they understand that music is an integral part of any home. 
Have a rummage around My Friend's House HERE.
And Happy Canada Day to Joni Mitchell and all Daily Constitutionalists and London Walkers!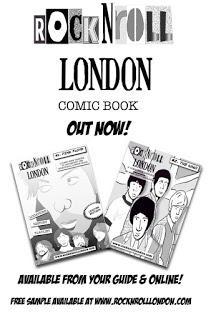 The Rock'n'Roll London walk is ONLY London Walk with its own dedicated comic book! Written by Rock'n'Roll London guide (and Daily Constitutional editor Adam) you can a copy on this afternoon's walking tour. It's also available in both print & digital formats at the London Bookstore online: londonbookstore.myshopify.com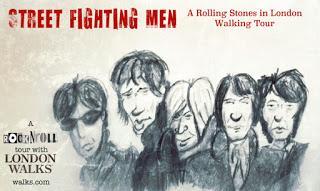 With the launch of The Rolling Stones Walk on the 5th May 2016 and the return of the Rock'n'Roll London Pub walk on Wednesday nights from the 4th May 2016 the London Walks summer programme 2016 will feature no less than FIVE regular musical-themed walking tours! For the full schedule see walks.com.
A London Walk costs £10 – £8 concession. To join a London Walk, simply meet your guide at the designated tube station at the appointed time. Details of all London Walks can be found at
www.walks.com
.