That's all we have lately.  Greece's silly $171Bn loan is meant to distract us from Europe's $17Tn debt hole and the US continues to borrow $171Bn PER MONTH to cover it's deficit and we don't even talk about Japan as the debt climbs over 220% of their rapidly declining GDP and who knows what's going on in China but, generally, when you have double-digit declines in home prices on a monthly basis – there's going to be a problem down the road.  
This may be my last bearish post before drinking the technical Kool-Aid this weekend and we've already selected 5 trades for our Members that will make 200-500% if the market keeps moving forward and there are still plenty of stocks we can make a lovely Buy List out of if this rally has legs – especially the way we like to bet, since our hedges allow us to make very nice returns, as long as we simply hold our current levels.   
There's the rub though – are the current levels sustainable?  The nice thing about consolidations like the one we've been having this year is that they firm up a floor and give us a very obvious exit point on the way down so we can move some of that sideline cash into play – as long as we hold 12,500 on the Dow and 1,300 on the S&P and 2,800 on the Nasdaq – pretty simple strategy, right?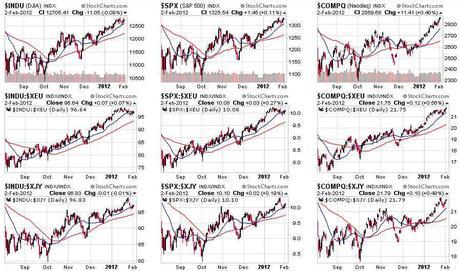 Notice the 2nd row has our major indices priced in Euros and our third priced in Yen.  My main issue has been that we've been much weaker than it seemed as the Dollar's relentless decline masked a downturn in the inflation-adjusted price of our stocks (and the weak Dollar also serves to inflate revenues reported by multinational companies) but, at the moment, we're at our breakout levels by any measure so we may as well go with the flow until we see a proper reversal.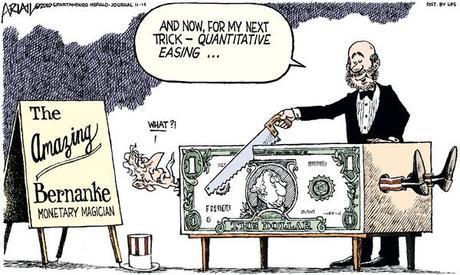 First we need to get past our NFP report at 8:30 of course.  I'm expecting a miss but will the market even care or will that just mean Uncle Ben has an excuse to pump up the QE according to their new "
formula
"?  
Keep in mind that what Bernanke said last week regarding the Fed's system for determining policy boils down to – As long…