As you can see from Dave Fry's intra-day SPY chart, it takes only minutes to reverse half a day's drop on just the word that Boehner is heading to the White House to meet with Obama – as if that's likely to accomplish anything…
Earlier in the day, dueling press conferences from Boehner and Reid kept downward pressure on the market all day but the volume was ridiculously low – indicating the last of the retail traders are being herded out of the market – right at our 50 dmas.  
That makes today Kill AAPL Day and we can expect that big push to the bottom to keep the Nasdaq down while the Funds step back in and start buying.  We've seen this movie before and it worked the first few times, so why not try it again.  Last month, they drove AAPL all the way down from $535 to $505 and that was a Friday too (16th) and now it's Friday the 14th and we're replaying that sequence (which was followed by a pop to $565 the next day).  
So clearly the play of the day will be picking up some AAPL calls for next week.  Nothing too fancy but figure we can pick up the Dec $560s for $1 or less and, if we get a nice pop on Monday – those calls can jump quickly to $5 and at least $2 so figure we're risking .50 to make up to $5 – that's a nice risk/reward profile!  It's also a good day to sell those 2015 $400 puts we love so much, maybe $55+ if we get a nice drop.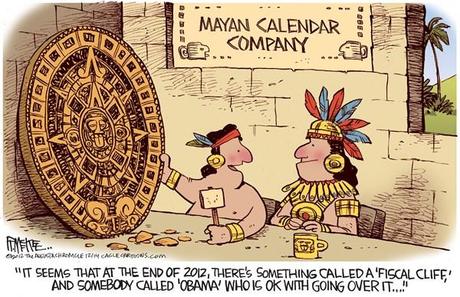 Of course it's just 7 days until the World ends so we may as well make the best of it and it's interesting that the Mayans predict the World will end on option expiration day as that's the day our calendars roll over as well
.
China has a different calendar than we do and their market jumped over 4% this morning as the HSBC Flash PMI report came in at a 14-month high of 50.9, up from 50.5 in November driven mainly by (drum-roll please) Domestic Demand – which is the holy grail of the Chinese Economy.  There were also signs that the new Government, which is meeting this weekend, will allow brokerages more funds to buy equities…
This article will become free after 48 hours (see below for free content). To read the rest of this article now, along with Phil's live intra-day comments, live trading ideas, Phil's market calls, additional member comments, and other members-only features -
Subscribe to Phil's Stock World by clicking here
.