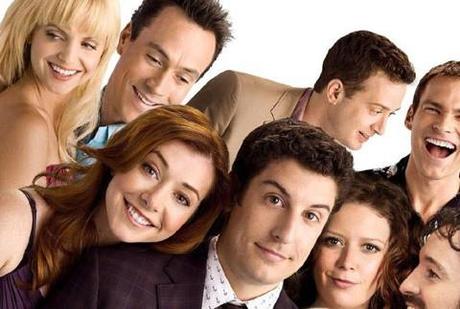 The cast of American Pie: Reunion Photocredit: Orange Film News
The background
American Reunion, directed by Jon Hurwitz and Hayden Schlossberg, has hit our screens. All the stars from the original American Pie(1999) have returned – Jason Biggs as Jim, Seann William Scott as Stifler, Alyson Hannigan as Michelle; Chris Klein and Mena Suvari, the film's original lovebirds, also feature. The plot sees Jim and Michelle now married, whilst the others grapple with their new found adulthood. Critics, however, are generally not impressed.
Stifler wins the day
It feels like, said Tim Robey in The Telegraph, that the cast accepted this film to stop appearing in "Where Are They Now?" columns. The film mixes "the horror of recognition with effortful winsome gestures at nostalgia." But the film only "flies" when its better actors use their "comic timing." Eugene Levy as Jim's dad, for instance, is "a matter-of-fact joy." But it's Seann William Scott as Stifler who makes it, "rampaging around with his usual grinning, gurning, conscience-free libido intact" and providing unexpected emotional depth.
Sexual angst and bodily fluids
Wendy Ide on The Times was less impressed. The "formula" of "sexual angst and body fluids in approximately equal measures" hasn't changed. It's basically a "cynical attempt" to get more out of this "flaccid franchise." But only Jason Biggs' Jim and Stifler are worth watching.
The actresses are all right
It starts with a "bravura masturbation scene", said Peter Bradshaw in The Guardian. But then "it loses its way." Whilst Alyson Hannigan manages to act with dignity, as does Mena Suvari, Tara Reid is "shot very carefully, usually standing or sitting till." And there are "a few gags." But let's not see another sequel.
Please no more
American Pie was a generation-defining movie, said Will Dean in The Independent. It ought to be a "singularly depressing experience." But it's actually "quarter-decent." But nothing's changed – "Socks are still masturbated into. Breats are frequently revealed. Everyone is still quite good looking." Plus, the whole point of the school reunion has gone out of the window, what with Facebook. We shouldn't encourage them – if we do, "it won't be too long before they hit American Retirement."
Stuck in the past
Simon Brew on Den of Geek was also unimpressed, saying that whilst not wanting to be "prudish", he felt that the world had moved on. 21 Jump Street showed that there could be "fun and life in the R-rated comedy market. American Pie: Reunion, though, seems far more interested in showing you what it did in the past than offering any hope for the future."
American Pie: Reunion and The Lucky One both get mid-week releases today. Both romances in their own way, just one of them involves pastry

— Cineworld Cinemas (@cineworld) May 2, 2012
Watch the trailer