For those of you who are wedding blog addicts (like me), you may have noticed I've gone 'to the other side' this morning.  Fortunately 'the other side' is a pretty, peachy, love-heart filled place, full of beautiful weddings from the UK and across the pond, inspirational ideas and the latest wedding must-haves. And all put together by a rather lovely lady called Elizabeth.
Yes, I am VERY happy to announce that I am the new Wedding Dress Expert over on Bridal Musings (oh yes, I said 'expert'- who's sniggering??), and my first post is up today.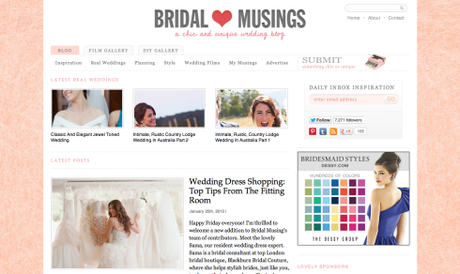 Now for the beady-eyed and loyal readers amongst you, you may notice that this post has, erm, some similarities (read: it's pretty much exactly the same) to this little post from nearly a year ago. 

Well, you know what?  I was very proud of that little post.  And although it's had more views in the last 10 months than I ever dreamed it would when I first started The Utter Blog, that number is only a fraction of the readership that Elizabeth gets over on Bridal Musings.  And as I've been harping on about for the last few weeks… sharing is caring!
So why don't you pop on over and see my words on a real-life proper wedding blog? We are slap bang in the middle of peak dress-buying season, so my Top Tips will hopefully be of help to a whole host of brides-to-be. I'll be contributing to Bridal Musings once a month from now on, covering a range of dress-related topics, from styles to suit different body shapes, the latest bridal trends, and oodles and oodles of insider know-how. And if anyone wants me to write about something in particular, then just let me know!
LOTS of love and virtual high fives all round,
Sama xxx