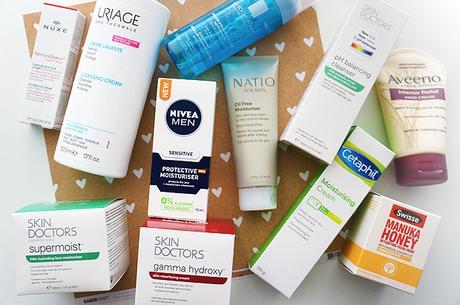 Yippee! It's that time of the year where Priceline has their 40% off skincare sale. The last few months, I have been waiting for this sale and I'm so glad it's finally here. If you haven't gone yet, the sale is on until tomorrow so get in quick. I shared a piccy on instagram yesterday of my shopping basket so it's only fair I post about the products I've purchased. Luckily, today I finished work a little earlier than usual so I could come home and take a photo. The lighting ain't great but hey it will do for now.
In no particular order, here's what I got:
Uriage Cleansing Cream – I've been using this cleanser for a couple of years now and it's great as a morning cleanser or days where I'm makeup free.
Nuxe Lifting Eye Cream –  I was attracted to this because it was under the anti-aging section. I'm willing to try anything to stop me from looking like a Chinese Aunty for now. This was the most expensive item out of the 11 items at $32.99 which is not too bad for an eye cream.
La Roche-Posay Micellar Foaming Water – This was recommended to me by a friend last year and have been using it since December. The micellar foaming water is one of my favorite foam cleansers because it's quite gentle and doesn't dry out my face.
Aveeno Intense Relief Hand Cream – A nice and cheap little hand cream at $5.99. I use it mainly before bed time and this permanently sits on my bedside table.
Swisse Manuka Honey Detoxifying Clay Mask – Not gonna lie, I threw this into my shopping basket yesterday as so many bloggers rave about it. Managed to try it last night and I'm pretty happy with it. I saw some oily gunk seep through the mask last night.
Skin Doctors pH Balancing Cleanser, Supermoist & Gamma Hydroxy – At the start of the year, I got to try out these amazing products from Skin Doctors, I loved it so much I had to repurchase.
Nivea Men Protective Moisturiser & Natio Men Oil Free Moisturiser – I couldn't find the usual moisturiser the husband uses so I purchased the Nivea and Natio moisturisers for him to try.
Cetaphil Moisturising Cream – This is a first time purchase, the husband wanted a moisturiser to bring to work so got this one for him.
Did you go to the Priceline sale and what did you buy? 
Bank account said no but the Credit Card said 'yes, you can afford EVERYTHING'.