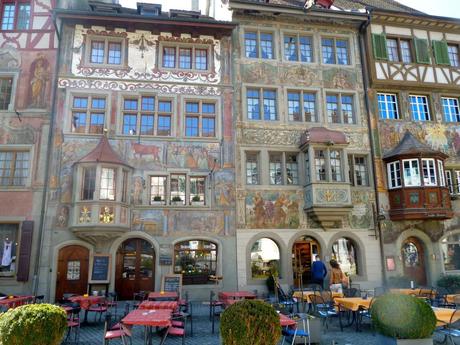 Frescos can be hazardous to your health. If it were up to me there would be signs saying "WARNING: FRESCOS AHEAD, ENTER AT YOUR OWN RISK." I've discovered this personally on more than one occasion when I've been so busy looking up trying to decode the story the mural  is depicting that I've nearly knocked over a priceless, or at least a very expensive vase in Ludwigsburg Castle, (but seriously why are expensive vases under a fresco anyway?), have twisted my ankle from tripping on a loose cobblestone in Stein am Rhein in Switzerland, and have tripped over a toddler in the Munich Residenz, whose mother shot me a dirty look as she soothed her now now crying toddler and carried her far out of my reach.  You may think I'm just clumsy, but I blame it on the frescos for never failing to capture my imagination with their Renaissance scenes, while providing an impromptu history lesson.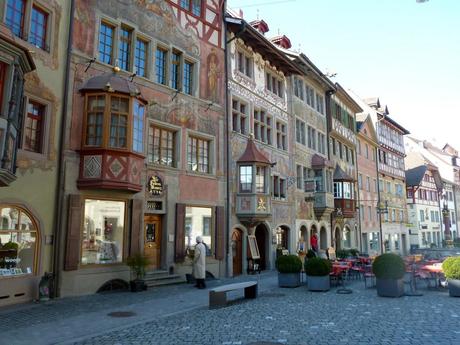 Stein am Rhein in Switzerland is famous for its frescos.
Stein am Rhein in Switzerland is a particularly dangerous place with whole streets plastered in the mural paintings.  It's my favorite place in Europe (to date) to observe frescos.  After I twisted my ankle, and finished mumbling obscenities, I hobbled over to the nearest cafe and enjoyed the frescos from the safety of a seated position – really the only safe way to enjoy the frescos, not to mention made all the more enjoyable over a cup of cappuccino.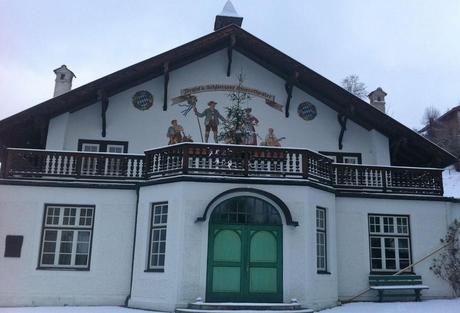 More modest frescos in Schliersee, Bavaria, Germany.
I'm not even safe from the more modest, but still interesting frescos found in Schliersee, Bavaria.  I wonder how many car accidents are caused from "Honey, look at the fresco"  "Where?  I can't see I'm driving," comes the reply.  "Look over there behind the tree, you can just see the top of it over the tree…"  CRASH!  I'm sure the fine citizens of Schliersee are glad that I don't drive in Germany.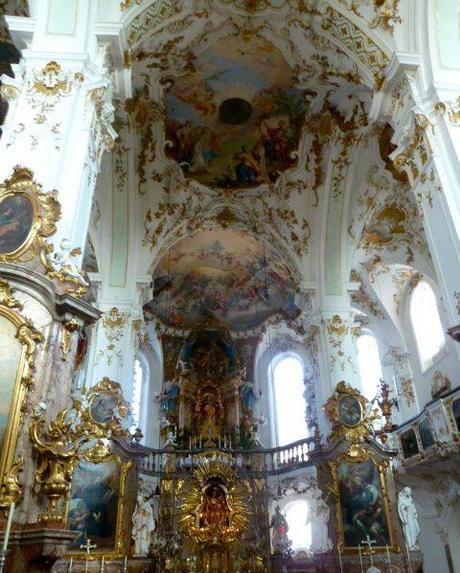 Frescos in Andechs Monastery near Munich.
Frescos can be found anywhere  where there's a flat surface – buildings, castles and churches.  Churches are by far the safest place to view a fresco since there are pews where you can sit and wonder why there are so many scantily clad women depicted in such a holy place, then just bend down and pray for your impure thoughts to be forgiven.  Quite convenient really!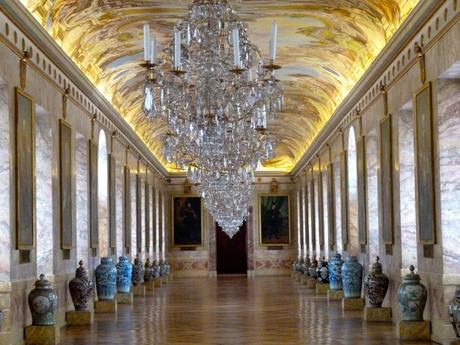 Lugwigsburg has several intriguing frescos - but watch out for the expensive vases.
Frescos depicted on ceilings in castles however are the most dangerous type of frescos.  You're looking up, not paying attention to where you are walking and before you know it you've crashed into something or somebody. I can't decide it that's worse than tripping on a perfectly flat surface and falling flat on your face – which I've also done.  Where is a new sofa when you need one?  Perhaps the castle staff are afraid that visitors would never leave.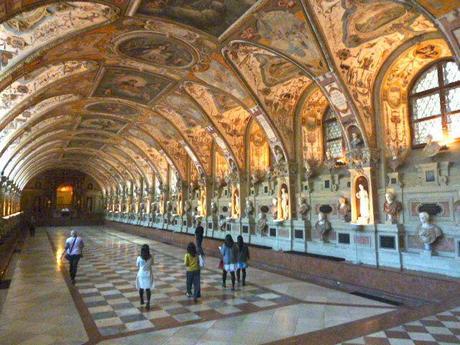 The largest ceiling fresco I've ever seen is in the Munich Residenz.
But seriously, can you blame me for being distracted by these incredible works of arts?  Their stories draw me in or if it's not obvious to me, I make up my own which is equally entertaining.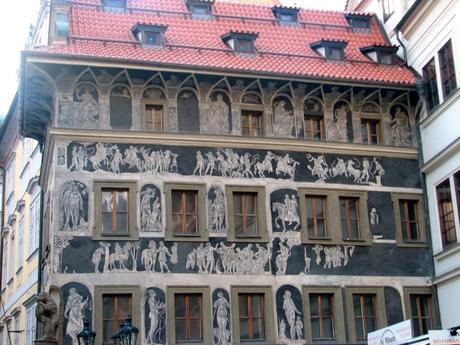 The frescos in Prague add even further interest to this already archeturally diverse city.
The dangers of frescos also extend to Prague, which is already on visual overload with its diverse architectural styles.  Fortunately I escaped relatively unscathed from Prague with only a minor stumble while staring at the frescos – for now at least.  You never know where and when the next fresco danger will rear its beautiful, hand-painted, imaginative, story-telling head.