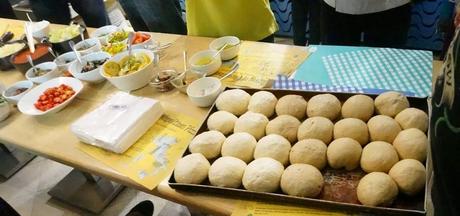 Last weekend, I was invited to a Pizza making workshop at Fresc Co at Janpath CP. Though I love pizzas, but I have never tried my hands in making it. So I was hoping for an eventful afternoon. The event was part of the ongoing Napolitano Festival. The festival is extended to all the outlets of Fres Co India with an objective to offer the traditional taste and flavors of

 

Italian Pizza. The Napolitano Festival at Fres Co will be running till 28th August 2014.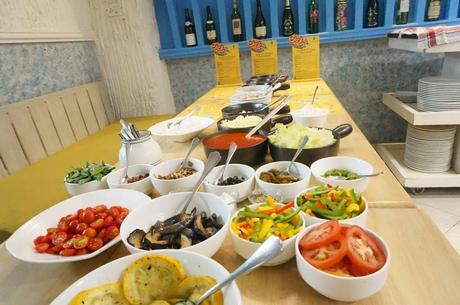 A table was placed with all the ingredients. Ankit Mangla, Brand Chef – Fresc Co India, demonstrated pizza making process, starting from preparing a flour for the base to baking the pizza. He then asked the participants to get their hands dirty. Kneaded dough, grated buffalo mozzarella cheese, olives, basil leaves, zucchini, cherry tomatoes, onion rings, pepperoni and pre-cooked pizza sauce was there at our disposable. After initial

 

reluctance, I also decided to get my hands dirty. I took a whole wheat dough to make a base and started patting it with my fingers to

 

give a round shape, hand-tossed it for a couple of times for a thin crust, applied little sauce, sprinkled little cheese and placed some sliced pepperoni, olives, and zucchini. My pizza was ready for baking, and when it came out, I was a superstar among all the participants as it was a perfect round thin-crust pizza. The ordeal of baking a pizza for self was an experience of one of its kind and I enjoyed every moment of it.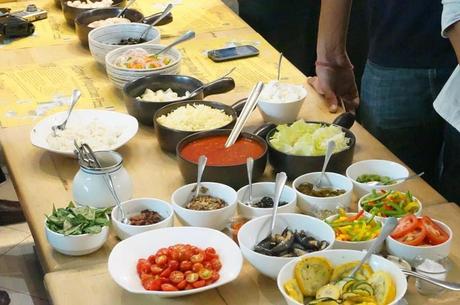 Napolitan Pizza or Pizza Napoletana in Italian, is a traditional Italian pizza with San Marzano tomatoes and Buffalo Mozzarella cheese from the Campana region in Italy. The crust should be thin and when cooked and when cooked, it should be soft, elastic and tender. The Napolitan Pizza is a Traditional Speciality Guaranteed product in Europe and the art of making these Pizzas is now undergoing a certification process.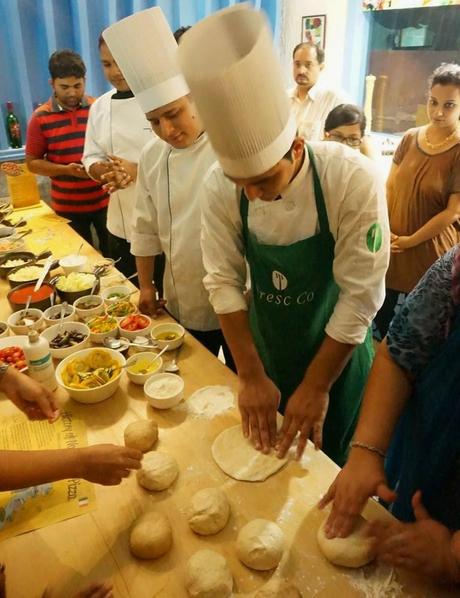 Fresc Co is a casual dining brand of Eat Out Groupfocuses on the Mediterranean. It was started in Barcelona in the year 1994. In India, It is part of Lite Bites Foods and has outlets in NCR region & Pune.