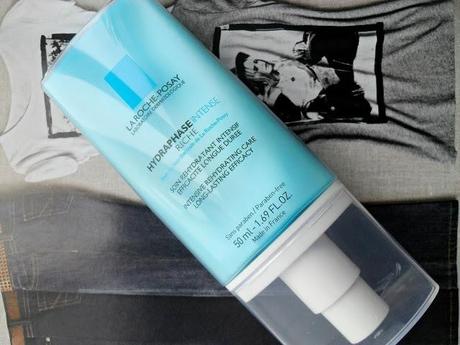 Yet another great La Roche-Posay product. It's the definite must for the days when your skin feels like a Sahara desert, dehydrated and unhappy.

Hydraphase Intense Riche

is 100% hypoallergenic, non-comedogenic and paraben free. It contains Hylarounic Acid Fragments that help to keep the moisture inside your skin and

La Roche-Posay Spring Water

to soothe the skin and bring it the desired relief.  Shea Butter is on the 3rd place in the list of ingredients which is pretty damn awesome, it has waterbinding properties and also acts as a refatting agent when applied to the skin so of course it works brilliantly  in this face cream. I'm not that excited about all the ingredients present in

Hydraphase Intense Riche

. Take mineral oil for example, I've never thought La Roche-Posay would be using it, and it takes 6th place in the ingredients list, indicating quite high consentration. Or fragrance, though the smell is not strong at all and actually is quite pleasant. 

I like the packaging of

La Roche-Posay Hydraphase Intense Riche

a fair bit. It's sleek, to the point, pretty compact considering it's a 50ml container; the pump to minimize the amount of bacteria contaminating your cream is also great.

After I apply it to my face it feels absolutely amazing. Very smooth and soft!

Hydraphase Intense Riche

also turned out to be a perfect base for make-up, foundation and concealer slide right on top of it looking flawless. A lovely moisturizer that works right away, well worth the price.