Forget Cannes! Seattle is currently hosting the largest film festival in the United States, the 39th S.I.F.F. Over three weeks, the festival shows about 250 features, representing many countries around the world. Most movies are playing in iconic (read old fashioned) movie theaters in the Emerald city. My favorite kind of theaters, you may remember. A few days ago, I received an email from the Festival team. They offered me free access to the French movie selection (and their crews whenever they were in town.) It seems the word has gotten out French Girl in Seattle loves le cinéma! They even threw in a Press card. Oh, là, là!
I was contacted too late to get to see all of the movies, but with some careful planning (and the help of a few girlfriends,) it will be my pleasure to work around my schedule and Junior's to catch a few shows.Today, I would like to introduce a must-see French movie.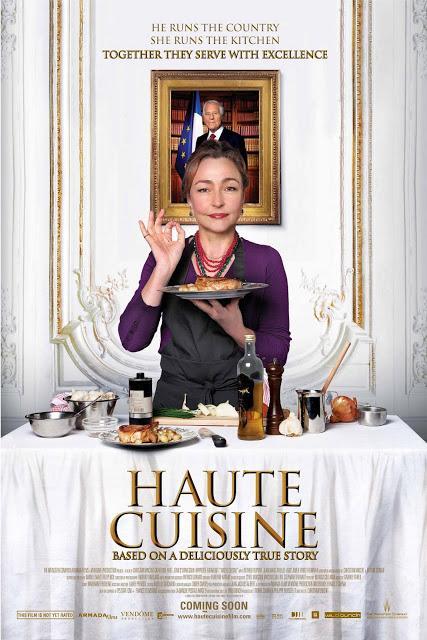 Christian Vincent's Haute Cuisine is an excellent translation of the clever French title, Les Saveurs du Palais. See movie release information at the end of the post.Haute Cuisine is based on a true story: In the 1990s, Socialist French President François Mitterrand head-hunted Danièle Mazet-Delpeuch, a skilled chef based in the beautiful Dordogne region, and brought her to the Elysée Palace (the French White House,) to work as his private chef and help him rediscover "les plats que [lui] faisait [sa] grand-mère," (the tastes of his childhood.)In the movie version, the president is interpreted with sheer delectation by an amateur actor, journalist and French Academy member Jean d'Ormesson. The Chef, Hortense Laborie, is masterfully played by Catherine Frot, one of France's most popular and versatile actresses. The movie is imperfect, but it works. Like one of Hortense's delectable confections, it is multi-layered and offers fascinating insights into French society and culture.Let's be clear: The story is an ode to food. The movie shines when we watch Hortense, a perfectionist, in search of the finest ingredients; prepare traditional French specialties for the president, with a total disregard for cost, or dietetics. [Note to readers: Do not watch this one on an empty stomach!]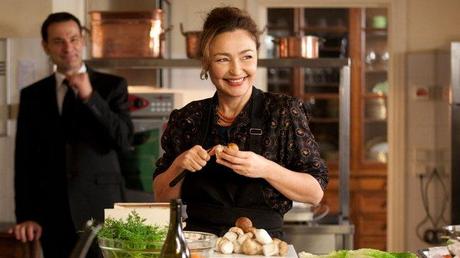 "La du Barry des fourneaux..."
(the kitchen du Barry) 
But when the movie starts, we quickly realize Hortense's years as the Elysée Palace private chef are over. She has since moved on to bring culinary excellence to grateful scientists at a French antarctic mission! 
What happened? The movie is a flashback, and will try and bring some answers.
The scenes at the Elysée Palace, as Hortense learns to maneuver around the protocol and internal rivalries among the staff are the most enjoyable ones. Decisive, undaunted, petulant at times, Hortense stands her ground, and when standing in the private Elysée kitchen, she shines. Her rare exchanges with the older president are delightful.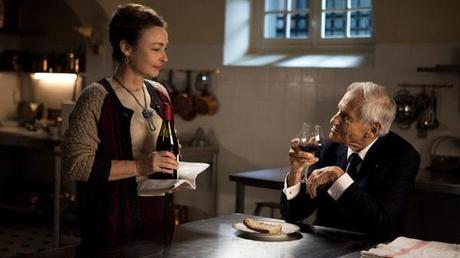 Hortense et le président
This is quality popular cinema. The movie is smart, engaging and entertaining. It illustrates a few truths most French people hold as self-evident: 
1. The French once fought a bloody revolution to get rid of autocratic kings so they could replace them with [elected] autocratic presidents.
2.  A happy man knows and respects his roots; his culture; his terroir and indulges often in a healthy dose of nostalgia.
3. Choux farci au saumon. Boeuf en croûte de sel. St Honoré à la sauce Mémé (all recipes featured in the movie:) 
Scr-#[email protected] the dietetician: Eat and drink everything, in moderation. 
A bientôt! 
Haute Cuisine (*)
Seattle International Film Festival (S.I.F.F.)
May 31 - 9:30pm - Egyptian Theater, Seattle, WA.
June 1 - 8:30pm - Kirkland Performance Center, Kirkland, WA
Box office: 
206.324.9996
or

book online
Mention coupon code "FRENCH2013" and get $2 off per ticket
(*) 
(ed: Downton Abbey meets [the French] Julia Child)