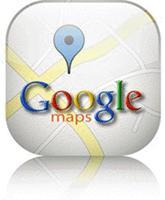 Google faces a  fine after a French court ruling that the company product "Google Maps" is free and thus it is abusing its dominant position in mapping service.
Bottin Cartographes provides mapping services for a cost, and its website boasts several business clients such as Louis Vuitton, Airbus and several automobile manufacturers. 
The firm said that Google was undercutting it with its crazy free map strategy, which it would then change once it had gained control of the market.
According to The Economic Times:
The French commercial court upheld an unfair competition complaint lodged by Bottin Cartographes against Google France and its parent company Google Inc. for providing free web mapping services to some businesses
After a two-years battle, the French court decision required Google to pay €500.000 ($660,000) in damages and interest to Bottin Cartographes, along with a €15,000 fine. I actually didn't know that you could get a fine by giving something for free that benefits the people.
Botin Cartographes counsil said:
We proved the illegality of (Google's) strategy to remove its competitors … the court recognized the unfair and abusive character of the methods used and allocated Bottin Cartographes all it claimed
A representative of Google France said that the company is still studying the decision and reviewing its options, adding that:
We will appeal this decision. Google is convinced that a free high-quality mapping tool is beneficial for both Internet users and websites. There remains competition in this sector for us, both in France and internationally
Let's not forget that this is not the first time that Google has run into legal trouble in France. In March 2011,  France's data privacy regulator handed the Internet company a 100,000 Euro fine for collecting private information as part of its Street View service.