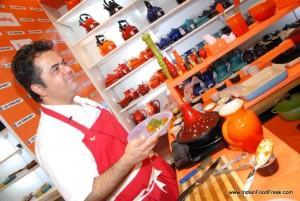 Le Creuset, an iconic French cookware brand which is renowned worldwide for its high quality cookware, stoneware, kitchen textiles and wine accessories has opened its first stand alone flagship store in Select Citywalk, Saket.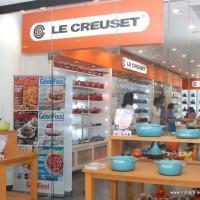 For the first time, Delhi will witness the complete range of Le Creuset – their stylized and signature cast iron collection, which are available in 10 colours, come with a lifetime guarantee and have total versatility in as much as they can be used on any heat source including induction. But the stylish range comes at a sharp price too – the range is from Rs. 9,000- Rs. 30,000 where a medium to large sized cookware is Rs. 20,000 upwards. And as pretty as they may look, they are quite heavy as well being cast iron. These are cook and serve dishes and can be served straight from the oven, hob or grill to the table.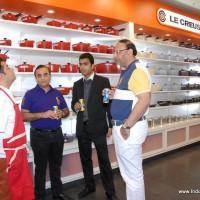 They also have a three ply stainless steel range, toughened non-stick cookware and stoneware in vibrant colours. The stoneware's colours coordinate with their cast iron cookware range and comes with an impressive 5-year guarantee. It is chipping, cracking and staining resistant and can be used in the oven, microwave, grill, freezer and dishwasher. Ceramic baking beans are available as well, which I may add, I have never seen before, these small, sweet, ceramic pie birds to be kept in the center of a pie while baking and wine openers and other accessories.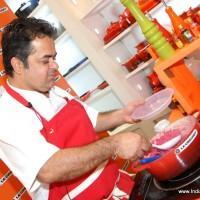 The inauguration event was scheduled to have a one hour interaction with Chef Vicky Ratnani (which got cancelled at the last minute without any information) and a live cooking  demonstration by him (which fortunately did happen). The chef prepared a root vegetable Tagine (a Moroccan dish) using Le Creuset Tagine and a fish curry with okra and drum stick in an oval casserole.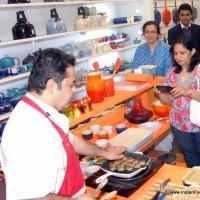 I wish that the organisers were better prepared to receive their guests and had at least thought of arranging stools or chairs. Believe me, standing for three and a half hours out of which we had to kill one hour (on account of the chef interaction having been cancelled unannounced) was very uncomfortable and thoughtless on the part of the organisers. The surprising part is that even after repeated requests by some of us, they did not arrange for any seating.
Le Creuset store can be visited at the Select Citywalk Mall, Saket, NewDelhi (contact no. : 011-41029592). As far as I'm concerned, a small cast iron cookware for Rs. 7,000-9,000 is steep but I'm sure there will be many takers for the lovely, colourful cookware range.