Who doesn't love a Free Book!
Do you love paranormal romance? The Admiral's Arms, Book Two by Jayme Rayne is a paranormal romance about a vampire with a soul, Colton Drake, who finds his long-lost love Gabriella Stratton. How they meet and fall in love is in The Admiral's Arms, Book One. How the romance blossoms between Gabby and Colton, as well as Gabby's friend Claire being torn between  a good vamp, Sebastian, and a bad evil, Ryker. Non-stop drama unravels as Colton and Gabby decide to head down the aisle.
Will Colton and Gabby seal the deal? What about Claire? Will she make a decision between good and evil?
Get the book and find out!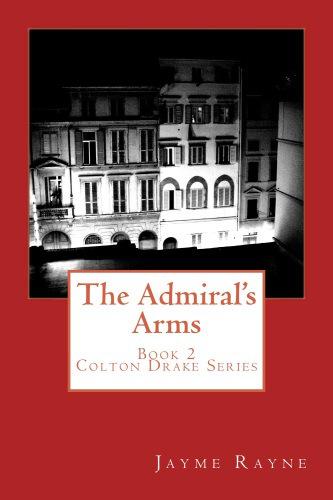 CLICK IMAGE TO GO DIRECTLY TO AMAZON PAGE
(as always, reviews are highly encouraged)
Excerpt – Book Two – Chapter 6
As we walked up the stairs, I got this feeling that my life was going to change for the better. I never noticed the pictures on the wall of the stairway. One particular picture caught my eye.
 I stopped on the stairway and stared "Who is that Colton?"
 "I keep forgetting we haven't spent much time at the Manor. You'll have a lot of investigating to do. That is Madelyne, my wife, I mean, ex-wife. She passed away many years ago."
 "Wife, I mean, ex-wife? I didn't know. She looks….."
 "I know, so much like you my love. Madelyne is you great great great Aunt on your Mother's side. I was preparing to tell you but now you found out."
 "So you were married to my family member? I don't understand?"
 "Yes, Gabriella, let's continue up the stairs and I'll tell you the story. Madelyne and I were married for quite some time. She was also a queen. The plague struck in town and somehow Madelyne contracted it. There was nothing we could do to help her.
 "This is getting unreal! My own flesh and blood?"
READ MORE ———>
FREE 6/13 & 6/14 The Admiral's Arms, Book Two eBook!