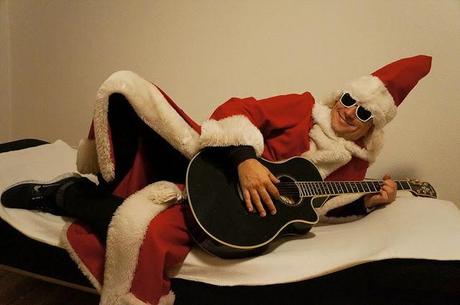 Paul Van Dyk as Santa
Merry Christmas to all those who celebrate and happy holidays to the rest of you.
Those working, too bad, but at least you're getting some great tunes for after :)
Since it's Christmas many DJs are in the festive mood and gave songs from their collection as a freebie. Here are a few that I have on my list giving out freebies.
Enjoy. Killer tracks!
Sound Remedy gave this remix for his Christmas freebi, a calm electr-synth remix. 
Lana Del Rey - Video Games (Sound Remedy Remix)
Jacob Plant
Remixes Rihanna's "Diamonds" [
Dubstep
]
Rihanna - Diamonds (Jacob Plant Dubstep Remix)
 Jean Tonique lashes out a free
funky
christmas tune just for you, Get it
here
Jean Tonique - Funky Christmas
A free remix by Protohype and his brother(Carnage) -
Brilliant
Trinidad James - All Gold Everything (Protohype & Carnage Festival Dub Remix) 
Funtcase and Cookie Monsta is a deadly combination. 
FuntCase - So Vexed (Cookie Monsta Remix)
Zeds Dead
gives out a
mix
that has been postponed for some time now [50:27]
Get the TrackList from
SoundCloud
A cool
dub
by
Skream
Skream - XMAS Day Swagger [HD1080]
Not to forget but
Mike Posner
wrote a song for the tragedy that befallen Sandy Hook Elementary School.
Mike Posner
penned
Heaven
, a heartfelt track that serves as a tribute to the 20 school children and 6 adults that fell victim on that fateful day. Listen & download it here ->