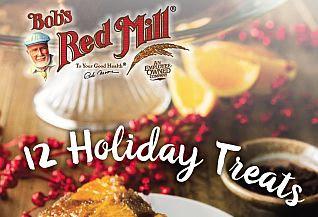 Is there is anything better than sharing freshly baked goodies with someone you love?
While I sincerely wish I could deliver a warm cookie right to your inbox, we are limited by technology
(why have they not invented THAT yet?!)
.
Luckily, I
can
deliver some inspiration for your holiday baking.
Bob's Red Mill
has created a free holiday recipe e-book filled with 11 of their favorite holiday baking recipes and one new, exclusive recipe just for you
(and, trust me, you're going to want to make this one!)
I hope you enjoy these recipes as much as I do!
Click for free eBook
(Worldwide)
---
NOTE - If any of the above links are not working or the freebies or coupons no longer available, please post a blog comment below and I'll edit it!
---
QUICK FREEBIE TIP:
Some don't use their last name when requesting freebies - to foil the telemarketers who take your name and address and look up your phone number to call you. To avoid these nuisance calls, they use only their first and middle name, or change some of the letters in their last name. Another benefit is that way you can track where the junk mail came from.
Click for more quick freebie tips
---
•
Enjoying all the freebies? Want to keep up with the latest free stuff, deals, coupons, and other ways to save money? Subscribe to Frugal Freebies'
email updates
or RSS Feed! - it's free!
•
Check us out on
Twitter
, and join in the conversation of even more great freebies, deals and coupons on our Frugal Freebies fan page on
Facebook
and
Google+
. We are even on
Pinterest
!