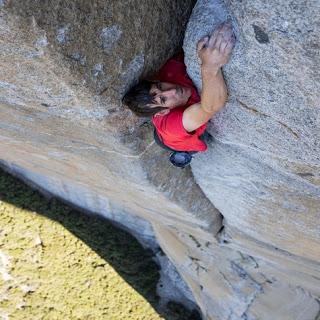 Let yourself embrace the beauty of the Academy Award®- and BAFTA-nominated film FREE SOLO that will make its global broadcast debut on March 3 at 9/8c, premiering commercial free on the National Geographic channel in the United States.
It is a stunning National Geographic Documentary from award-winning documentary filmmaker E. Chai Vasarhelyi ("MERU") and world-renowned photographer and mountaineer Jimmy Chin. One that you will remember when you visit Yosemite National Park and look up at El Capitan. Yes, free soloist climber, Alex Honnold, plans to climb the world's most famous rock, El Capitan... without a rope!
Read more about FREE SOLO via this link, and the original song "Gravity" by Grammy award-winning legend, Tim McGraw. "There are few people who pursue their passion with the fearlessness of Alex Honnold. It's both terrifying and exhilarating to be on that journey with him when you watch FREE SOLO.
Plus, the film will be released globally in 172 countries and 43 languages. Fox Home Entertainment announced they will also make it available for viewing on digital platforms, including iTunes, Google Play, Amazon Prime Video, Vudu and others as well.