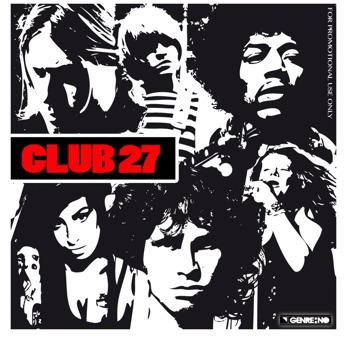 Really loving the re-makes of some great songs from very talented artists who left this world too soon. In the infamous 27 club, artists who are represented on this project are Jim Morrison, Kurt Cobain, Amy Winehouse, Janis Joplin, Jimi Hendrix and Brian Jones.
This project was put together by Cheese N Onion, a talented production duo from Germany. They did remakes of Kurt Cobain, The Rolling Stones (Brian Jones) and The Doors (Jim Morrison). Other artists contributing to the project are Tyler Durden remaking Jimi Hendrix, Kinky T remaking Amy Winehouse and Cubus remixing Janis Joplin.
Here are all six songs in full. This is a free EP release, so you can download the songs individually via the SoundCloud widgets, or simply Click Here to download all 6 songs as a zip file.
We'll start off with "Love Me" the Jim Morrison tribute song - a re-imagining of "Love Me Two Times" by The Doors. This song is an amazing piece of deep house.
Next up is the Nirvana remake to honor Kurt Cobain. The song is called "As I Want You" - the Cheese N Onion take on the Nirvana classic "Come As You Are". With this one, they did a complete re-work, with a female vocalist instead of sampling Kurt's voice. I thought that odd at first, but the more I listened to the song, the more it grew on me. More of a straight up dance song, I think people will go nuts once they realize what the song is.
I've gotta go with Jimi Hendrix next. This version is called "Soul Of Voodoo" and is Tyler Durden's remake of "Voodoo Child". A nice funky house / tech house groover. I love how he teases and teases with the guitar licks, and then finally lets it take off after the breakdown.
Next up is "Pleased To Meet You", Cheese N Onions remake of "Sympathy For The Devil" by The Rolling Stones to honor Brian Jones. Another great house groove, making great use of the guitar and vocal parts from the original.
The Amy Winehouse tribute from DJ Kinky-T is called "No Good" and is a remake of "I'm No Good" with a deep house groove.
Closing out the collection is "Tomorrow Never Happens" the Cubus remake of "Ball and Chain" by Janis Joplin. This one is fun and has good energy. We get to hear Joplin's voice almost right away, and he allows it to really work with the track. This track to me is pretty versatile, and can be played with deep house, house and tech house sets.
Cheese N Onion SoundCloud page
Tyler Durden SoundCloud