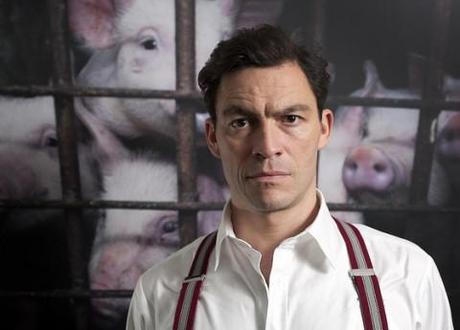 Dominic West. Photo credit: PigBusiness
Appropriate AdultThe Wire's
Calm and measured. "Appropriate Adult is beautifully done," purred Sam Wollaston of The Guardian. "Not sensational or hysterical – we don't see the crimes, or even body parts being dug from the garden of 25 Cromwell Street, thank heaven. It's calm, measured, real, haunting and terrible. And yes, at times, even funny too."
BAFTA for West! The Daily Telegraph's Serena Davies said West's "hypnotic" performance in part one of the two-part programme makes him "a Bafta shoo-in." In a five-star review, she said the programme expertly "suggested how manipulative and persuasive West could be." Sam Wollaston of The Guardian was similarly impressed by West: "The entire performance is a mesmerising one. He appears to have let West in to take him over. He's a monster obviously – sadistic, scheming, manipulative, evil. But there is also a charm, a roguish joviality and a flirtatiousness about him. And an ignorance."
West's a hypocrite. "'To have an actor pretending to be my father is an insult to the memories of his victims,'" Fred West's daughter Anne-Marie Davis told The Daily Mail, adding that the actor is a "hypocrite" for complaining of nightmares while playing the murderer. "What of the victims who survived and all the victims' families who have lived with this for more than two decades? He has had but a glimpse of their world," said David, who was raped and tortured by her father. "I would ask people to put aside that voyeurism for just a few minutes and consider the victims of all such crime, their families and the life sentences they have to serve – without choice," appealed Davis.
Sickening. "'Fred West ruined my life … this new film sickens me,'" Paul Leach, son of real-life appropriate adult Janet leach told The Sun. "'It sickens me to the core that this programme has been made. It's vile – the past should be left in peace,'" said Leach. "'And Mum collaborating with the producers is simply unbelievable. I'm having nightmares over it – it feels like 1994 again." The Sun reported that Janet Leach is now a "virtual recluse" and grimly concluded that "It seems not all Fred and Rose West's victims were murdered."
Speaking to BBC Breakfast on Monday, writer Neil McKay defended the programme, saying he hoped it was "restrained and sober and thoughtful." "Dramas have been made about the Holocaust, about the Vietnam War, about 9/11," he added.