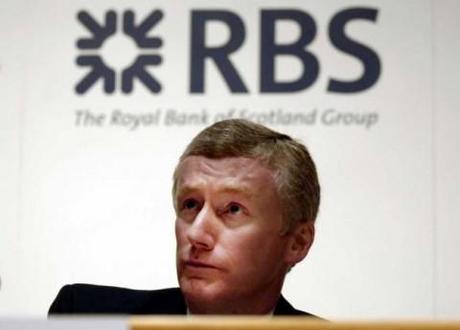 Fred Goodwin: Where's my knighthood? Photocredit: PA
Fred Goodwin, the former head of Royal Bank of Scotland, has been denuded of his knighthood. He has been held up as a figurehead of the banking system's collapse; RBS's near-failure in 2008 led to a taxpayer bailout. He was awarded the knighthood by a Labour government, irony of ironies, in 2004. The move has caused some consternation, as previously, only convicted criminals and people struck off professional bodies have had honours removed; also because of its coming after Stephen Hester, the current head of RBS, has refused his bonus. Whilst politicians of the coalition government are in agreement with the move, Labour politicians are against it; almost every single newspaper editorial has come out against the move, calling it the beginning of mob rule, and saying that it sends the wrong message about Britain to the world. Banking is a highly sensitive political subject, and since RBS is part-owned by the taxpayer, public opinion is strongly moved by what happens to its executives.
In favour. George Osborne, the Chancellor of the Exchequer, is in support of the decision, saying that "RBS symbolised everything that went wrong in the economy over the last decade. Fred Goodwin was in charge and I think it is appropriate that he lose his knighthood," quoted on The Daily Telegraph. Deputy Prime Minister Nick Clegg also agreed; Prime Minister David Cameron welcomed it, saying that the Financial Services Authority had laid the blame at Goodwin's door.
"I think there is the faint whiff of the lynch mob on the village green about this, but that isn't to say that the end result isn't what is right," said Lord Jones, a Former Labour trade minister and ex-CBI director general, quoted on The Daily Telegraph.
Not in favour. Alistair Darling, who was Chancellor under Labour, wrote in The Times that there is "something tawdry about the Government directing its fire at Fred Goodwin alone." He also suggested that pay needs to be high in order to recruit the best – why should bankers go and work for RBS when they will just end up being dragged through the mud by the public?
Really not in favour. Just where do we stop? asked The Independent's leader, which was strongly opposed to the move. It said that "the second scapegoat" had been expelled, a couple of days after RBS's chief executive was "bullied" into giving back his bonus. Stripping Goodwin of his knighthood has been deemed an "exceptional case." This is "nonsense" – he's only "exceptional … in his totemic value to a mob baying for vengeance." Goodwin was "incompetent," yes – but he "broke no law." What about others "responsible for the financial crisis?" Former chairman of RBS Sir Tom McKillop? Chairman of Lloyds Sir Victor Blank? Even Sir Mervyn King at the Bank of England? And that's not even to mention the politicians: Lord Mandelson, Lord Prescott: "all cabinet ministers from the revelant period should be stripped of their status as Privy Councillors." And if Goodwin loses his honor without breaking the law, than all those who have broken the law should immediately be sent "back to the common herd." Hello Lords Archer, Browne, Clarke, Hanningfield and Taylor. This move sends out entirely the wrong message about Britain. It's "crass, childish, and wholly counter-productive."
 The essence of liberty. It raises questions about the entire system, said The Timeseditorial, which added that this move says something more "eloquent" about us than it does about Mr Goodwin. His behavior was arrogant and "calamitous", particularly the purchasing of ABN Amro, which earned him the "sobriquet of the world's worst banker." He shouldn't have had a knighthood in the first place. By annulling it, we ask "what sort of country have we become?" Setting such a precedent is "worrying." There should be a public inquiry into what happened – and then that could lead to convictions and prosecutions under law. We don't live in a world of "arbitrary justice. This is the essence of liberty."
Domino effect? And look at the company he's in. The Daily Telegraph said that the last person stripped of a knighthood was Robert Mugabe; also Nicolai Ceausescu; and Antony Blunt, the traitor who handed over British secrets to the Soviets. "The criteria, therefore, for losing a knighthood have been exceptional: treason, criminality and brutal, despotic governance." So where does Fred Goodwin fit in on this scale? Surely the Honours Forfeiture Committee has "exceeded its remit." Cameron and the "other leading politicians who have encouraged this populist bloodlust shoud be ashamed of themselves. Now that the precedent has been set, the mob will want more, because it always does. So who will be next?"
Here's the solution. Simon Jenkins in The Guardian said that we ought to be banning bonuses – "They are mad." Cut them out and Fred Goodwin "might even have kept his knighthood." RBS bankers should be motivated by public service alone, and keep to normal salaries. That would end this frightful, poisonous culture, where executives are treated like children by being given "incentives." Ban bonuses, and end the problem.