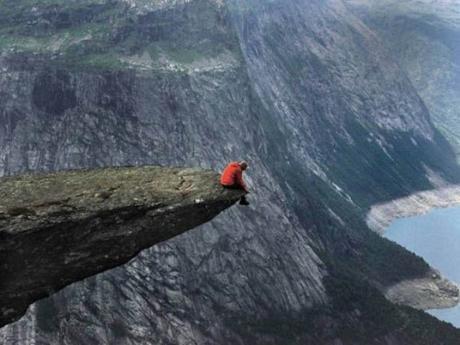 On Dec. 23, 2015, in an essay titled "Calling the Nation to Repentance," evangelist Franklin Graham, son of Billy Graham, sounded the alarm that America is at a precipice. He writes:
I believe we are perilously close to the moral tipping point for the survival of the United States of America.
Founded by separatists from Europe seeking religious freedom to practice their faith before Almighty God, America has long enjoyed the blessings of a people who acknowledged and practiced belief in the God of the Bible. For centuries, our country has stood brightly as a "city upon a hill," defending freedom abroad, and affirming our spiritual heritage as one nation under God.
In recent decades, however, that enduring foundation and heritage have been under relentless and vicious assault. Christians now find themselves constantly on the defensive from a progressive, godless culture that seeks to diminish and eradicate any religious influence in our society.
The day after the killing of 14 innocent civilians by an Islamist terrorist couple in San Bernardino, Calif., I was shocked to read a headline in the New York Daily News screaming, "God Isn't Fixing This." Rather than focusing on the brutality of an evil religion that slaughters in the name of their god, the editors chose to mock Christians like myself who extended God's sympathy and care in heartfelt prayer.
Who would have ever believed that the most prestigious address in the United States—the White House—would be brightly lit in the colors of the gay rainbow to celebrate the U.S. Supreme Court's approval of gay marriage? Or that bakers and florists and photographers across the country would be persecuted, fined and threatened by federal and state officials for simply standing up for their religious rights? Or that a football coach would be sanctioned by the state for praying at a high school game? Or that law enforcement officials would be threatened with lawsuits for displaying decals with our national motto, "In God We Trust"?
There now exists deep-seated antagonism and hostility toward Christianity in every seat of power in this nation—government, media, courts and education. It has become open season on Christians. Sin is openly celebrated and flaunted by the highest office in our land, and men and women of deep and sincere faith are publicly scorned.
I refuse to bow or bend. I refuse to be silent and watch the future of our children and grandchildren be offered up on pagan altars of personal pleasure and immorality. In the words of the Prophet Daniel as he foretold of dark and oppressive days to come for Israel, "the people who know their God shall stand firm and take action" (Daniel 11:32).
That's why on Jan. 5, I will stand on the steps of the state Capitol in Des Moines, Iowa, to begin a nationwide series of meetings that I believe will be the most crucial we have ever conducted.
We're calling it the Decision America Tour, and by early autumn, I will have been to all 50 state capitals, preaching the Gospel of the Lord Jesus Christ and asking for God to heal our spiritually sick—and dying—land.
In every state, we'll be inviting believers to come and stand with us, and unbelievers to put their faith in Jesus Christ. The schedule for the next several months is listed, and more dates will be released soon. If you are unable to come, you can still watch the live webstream.
Although we're starting in Iowa since it's the first caucus for the 2016 election, and we'll be in many state capitals during or near their primary election dates, Decision America will not endorse or feature any political candidate or party. There will be no politicians on stage. I don't have any hope that either Republicans or Democrats hold the key to the moral and spiritual revival of our nation. My confidence and hope are in Almighty God.
If our nation is to ever again lead with moral integrity and return to the faith of our fathers, we must repent of sin and humble ourselves before Him.
I will ask the audience in each state to set their minds and hearts on three specific endeavors.
First and foremost, I want people to pray for our land and our leaders. Despite what the New York Daily News says, God can fix this. He works powerfully and effectively through prayer. Prayer calls on omnipotent, omniscient God to accomplish His sovereign will.
On many occasions, the nation of Israel cried out to the Lord for deliverance and relief from their adversaries, and God answered their plea. He was, and is, sovereign over every political and military empire that has ever existed, or ever will exist.
Second, I want to encourage God's people to go to the polls, not just to elect our president but also for local and state elections. In the 2012 elections, it is estimated that 17 million evangelical Christians did not vote. That would have been more than enough to tip an election that was decided by 5 million votes.
Make sure you check out the qualifications for each candidate. See where they stand on crucial moral issues like abortion and same-sex marriage. Cast your ballot for those who stand boldly on the side of biblical truth.
Third, engage in the civic process wherever you can. Think what a huge difference it can make if godly men and women across this nation are elected to local offices. There will be opportunities to positively influence our neighborhoods, communities and schools. Perhaps we can check the decaying spread of policies promoted by those with hostile anti-Christian agendas.
Psalm 11:3 sounds an urgent warning to a people where wickedness seems to have gained the upper hand: "If the foundations are destroyed, what can the righteous do?"
I don't believe the foundation laid by our forefathers is destroyed just yet, but it certainly is cracked and crumbling. We shouldn't be surprised by our trials, for Psalm 11:5 tells us, "The Lord tests the righteous." But He promises that He will not leave us nor forsake us (Deuteronomy 31:6). The rest of Psalm 11 assures us that God is on His throne in the heavens, that He hates wickedness and violence, and He loves justice.
For the sake of America, Christians need to pray, to vote, and to work hard in our cities and towns to be a clear voice for God's eternal truth and His redeeming love.
I hope that God will use the Decision America Tour as a spark for revival and awakening in our nation. My confidence and trust is completely in His mercy and grace.
To find out more on Graham's Decision American Tour (DAT), click here.
Here are the announced Decision america Prayer Rally tour dates:
January 12

, 2016:  Historic Capitol Steps, 400 South Monroe Street,

Tallahassee, FL

32399

January 13

: North Boulevard Town Square, Corner of North Blvd and 3rd Street,

Baton Rouge, LA

70802

January 19

: State House Plaza, 107 North Main Street,

Concord, NH

03301

February 9

: Capitol North Side, 1100 Gervais St,

Columbia, SC

29201

February 10

: Liberty Plaza, 206 Washington St SW,

Atlanta, GA

30334

February 24

: Capitol Lawn adjacent to statue, Hawaii State Capitol,

Honolulu, HI

96813

March 15

: Capitol West Steps, 200 E Colfax Ave,

Denver, CO

80203

March 16

: Capitol West Concourse, New Mexico State Capitol,

Santa Fe, NM

87501

March 18

: Capitol House of Reps Lawn, 1700 W. Washington,

Phoenix, AZ

85007

March 29

: Capitol South Steps, 350 State Street,

Salt Lake City, UT

84111

March 30

: Capitol Amphitheater, 101 N Carson St,

Carson City, NV

89701

March 31

: Capitol West Steps, 1315 10th St,

Sacramento, CA

95814

April 12

: Capitol Front Steps, 500 Woodlane St,

Little Rock, AR

72201

April 13

: Capitol South Steps, 400 High St,

Jackson, MS

39201

April 14

: Capitol Grounds Front Steps/Terrace on west side (facing Dexter Ave), 600 Dexter Ave,

Montgomery, AL

36130

April 16

: Capitol South Steps, 1100 Congress Ave,

Austin, TX

78701

April 27:

Capitol South Parking Lot, 2300 N Lincoln Blvd,

Oklahoma City, OK

73105

April 28:

Capitol South Steps, 300 SW 10th St,

Topeka, KS

66612
See also "Republican Party outed by Franklin Graham".
~Eowyn