Frank Apostolopoulos, creative director of Melbourne's Biba salon group, has been named the 2016 Schwarzkopf Professional Hair Expo Awards Australian Hairdresser of the Year. Frank joins a small circle of just four elite Australian hairdressers who have been named Hairdresser of the Year three or more times. Frank beat five others to the award and his win sees the national trophy going home to Victoria for the eighth time in 31 years.
The annual awards are the final night highlight of Hair Expo Australia, the largest hairdressing event in the southern hemisphere which was staged for the first time this year in Melbourne over the Queen's birthday long weekend. Frank received his trophy at a spectacular gala ceremony on Monday 13th June, hosted by TV personality, Richard Reid.
"Winning Hairdresser of the Year for the third time is a massive honour", said Frank. "Having your work recognised by such an incredible panel of judges from around the world is amazing enough but now having the opportunity to show in London is unbelievable. I'm still in shock".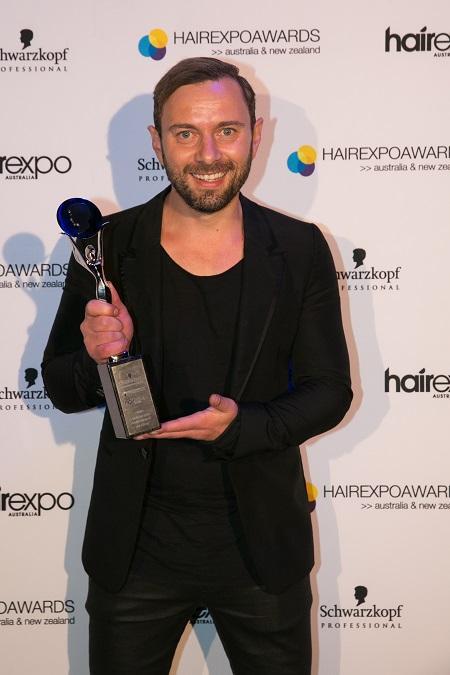 Frank Apostolopoulos 2016 Australian Hairdresser of the Year
Celebrating their 31st anniversary this year, the annual Schwarzkopf Professional Hair Expo Awards are the longest running and most respected awards in the Australian and New Zealand hairdressing industry. They set the industry standard in the region and represent the pinnacle of hairdressing excellence in the southern hemisphere.
Frank Apostolopoulos 2016 Australian Hairdresser of the Year
The strength of the Schwarzkopf Professional Hair Expo Award lies in the fact that unlike any other industry award, it is based 50/50 on a photographic collection as well as on a year of service to the industry plus business performance. "The Schwarzkopf Professional Hair Expo Awards are an engine of excellence for hairdressing", says Julia Erben, Hair Expo Event Director. "For over three decades, they have created an independent platform for the best of the best in our industry to showcase their talent to their peers and to the rest of the world".