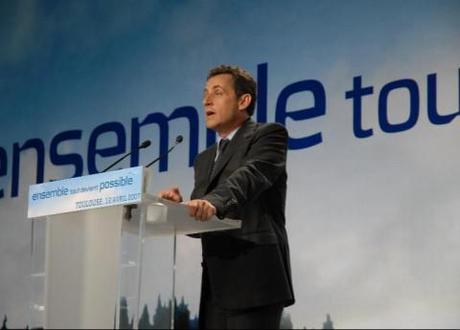 Nicolas Sarkozy, the current French President
The French elections are due to take place this weekend. The candidates' campaigns are coming to a head. Currently in the front is Socialist François Hollande, whilst President Nicolas Sarkozy is snapping at his heels. Also running are the far-right Marine le Pen, and the far-left Jean-Luc Mélenchon; and centrist François Bayrou. For a bite-sized rundown of the candidates, look here on Periscope.
The first round will take place on Sunday, and if nobody gets an absolute majority, then a run-off will happen on 6th May.  Campaigning has largely focused on the economy, with both of the lead runners promising to balance the books. Commentators are saying that whilst it's a close run race between Hollande and Sarkozy, anything might happen as disillusioned voters turn to the more extreme candidates. Not much is clear, said Time, which looked at the numbers. Some polls say Sarkozy is ahead; others say its Hollande. But 26 per cent of the electorate are expected to abstain, and 24 per cent say they haven't even made their minds up yet, so "all sorts of surprises are possible." Le Pen and Mélenchon are battling for third place.
"I want to profoundly reform my country: engage in a tax reform for justice, a reform of the banks to dominate the finance world, a territorial reform to create a new decentralisation policy, a reform of justice to make it independent," said François Hollande.
Ready for change. The Guardian's editorial said that the election has the potential to change "the face of politics" not only "in France but Europe too." Hollande could be France's first socialist president in 17 years. He is "all but assured of victory." Hollande has so far "not put a foot wrong." It's been a "boring campaign," though. Sarkozy is no longer brilliant. He's handicapped by "his own personality." Hollande, on the other hand, is "underestimated." But don't forget Jen-Luc Mélenchon – he's a "firebrand," but "also your favorite school teacher." He's taking proletariat voters away from the far right, and has revivified the left. He probably won't come third on Sunday – but at least it will be "the first time" that a pair of candidates from the left get into the top three. There's still a way to go, but "France stands on the cusp of real political change."
Dismal choices. It's all about the economy, said The Wall Street Journal. France has 90 percent public debt – bigger than Spain's. Unemployment is "chronic." Sarkozy is promising to lower the deficit by raising taxes. But his other policies are vague. Hollande, on the other hand, wants to tax the rich at 75 per cent over 1 million euros, and 45 per cent over 150,000. His spending plans, however, rely on "more borrowing." Marine le Pen has managed to shed her far-right image, but is still avowedly populist. She is "enduringly magnetic to the young and disgruntled." Turn out at the election is expected to be low. French voters "know that their choices this year are dismal."
The guillotine! Whatever happens, said Ian Birrell in The Daily Mail, the French are sick of Sarkozy. They are sick of his rich wife, Carla Bruni; they're sick of his ostentation and his wining and dining with the wealthy; they call him the "Little Emperor." He's been a disaster, in terms of what he promised. "I fear the political  guillotine awaits."
A tale of two Frances. But don't forget what France is really about, said Sylvie Kauffmann, the editorial director of Le Monde, in The Financial Times. What's been happening with the extreme candidates is exactly what's been going on with the Indignados in Spain, and the Occupy movements elsewhere. But "there is another France", which has been ignored by foreign media and the candidates – it's "creative, dynamic, innovative, diverse and adventurous." Many French go abroad to train, but come back with their skills; many also want to set up their own businesses – more even than in the US. And whoever eventually wins will have to reconcile both these Frances."