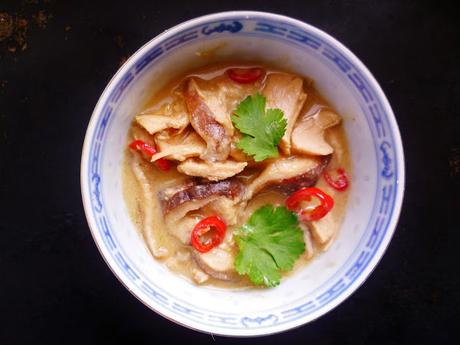 Thai coconut chicken soup (tom kha gai)
Tom kha gai is a rich coconut broth infused with galangal (kha), lemongrass and kaffir lime leaves, topped with chicken (gai) and seasoned with fish sauce, tart with lime juice.

It is unbelievably simple to make, particularly if you actually keep it simple and don't try to overcomplicate things. You often see this dish on Thai restaurant menus as a soup, but this is something of a misnomer, as it is really a soupy stew that is served with rice. I like to cram rice into a small bowl and plate it up in a large soup bowl, then pour over the soup. Heavenly comfort food in a soup bowl.
Having said that I see it on menus a lot, I don't often order it as to my mind it tastes too sweet and gloopy, not at all like the tom kha gai I had in Thailand. This is definitely a case where homemade is best.
I am using chicken breasts in this recipe. Of course you can use chicken on the bone and you'll most likely have a deeper-coloured and -flavoured stew. The danger of using chicken breasts or any meat off the bone is that it is overcooked. This is why I often make this with leftover roast chicken, just adding the cooked meat towards the end of cooking to warm the meat through.
A word of warning if you are using coconut milk - do not overheat it, as it may split. I've heard that you should stir the milk continuously, in the same direction. I do this and it seems to work, but this could have been just luck!
Serves 4
Skill level: Easy
ingredients:
400g chicken breasts, cut into chunks
250ml chicken stock
400ml coconut milk (1 tin)
water (optional)
2-3cm galangal (or ginger), sliced
2 lemongrass stalks, bruised
2 shallots
3 kaffir lime leaves
150g shitake mushrooms, sliced
1 tbsp fish sauce
juice of 1 lime
2-3 Birdseye chillies, finely sliced
salt, to taste
a small bunch of fresh coriander, roughly chopped
steamed rice, to serve
directions:
Combine the stock, galangal and lemongrass in a medium saucepan. Gently bring to the boil. Simmer for about 10 minutes. Discard the galangal and lemongrass.

Add the coconut milk and increase heat to medium. Add chicken, mushrooms and Kaffir Lime leaves. Simmer until the chicken has cooked through, about 10 minutes.

Add the fish sauce, lime juice, and red chillies. Taste for seasoning and add salt if necessary. There needs to be a balance of sour and salty.

Serve over a generous portion of steamed rice, with a sprinkling of chopped coriander.