Cinderellas Turned into Pumpkins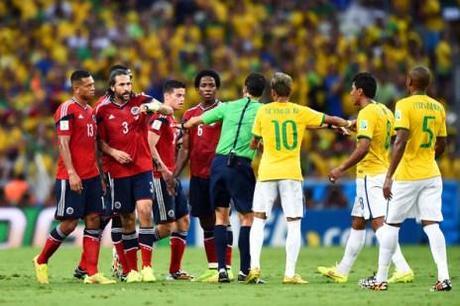 Colombia in red, Brazil in yellow (www.nytimes.com)
After the thrilling Round of 16, World Cup Soccer fans were treated to an extended Fourth of July weekend of action-packed quarterfinal matches.
I wouldn't be giving anything away to announce that prior to the quarters all eight of the so-called favorites (as determined, I guess, by odds-makers in the know) had won their various match-ups. Not ONE of the underdog nations was able to overcome those odds. Such upstart teams as those from Chile, Uruguay, Mexico, Greece, Nigeria, Algeria (who gave the Germans the most difficult time), Switzerland and Team USA all failed in their quest to make it past heavily favored Brazil, the aforementioned Germany, the Netherlands, or Argentina — all ranked in the top five.
With the exception of former world champion Spain, who sputtered out early in the Cup, that left the above four favorites to join Colombia, Costa Rica, Belgium and France in the knockout field-of-eight round.
Starting with the French, Les Bleus did their best to stem the rising Teutonic tide — which wasn't easy, what with the poised German strikers possessing a clear height advantage and near pinpoint accuracy. Blessed with the likes of Thomas Müller, Miroslav Klose, Bastian Schweinsteiger, Mezut Özil, and Mats Hummels, Germany took the lead off Hummels' header in the 12th minute of play. It was enough to put them into the semis against Brazil on Tuesday, July 8, in Belo Horizonte.
He Came, He Saw, He Fouled
Uh, about last Friday's quarterfinal win against Colombia, the cost of Brazil's 2-1 victory may have been too high. Team captain Thiago Silva was yellow-carded, and will miss the semifinal match with Germany, due to his pointless blocking and unnecessary roughness of Colombia's goalie Ospina. With no adequate substitute in sight, it's difficult to believe how his absence can be anything but bad news for the Brazilians.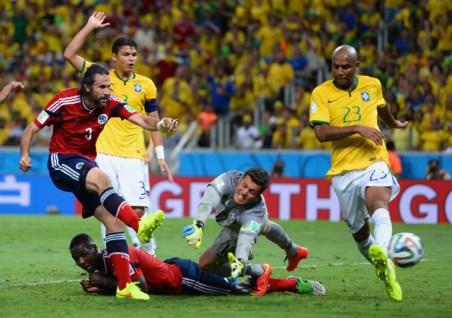 Brazil goalie Julio Cesar: Collision with Colombia
In another perhaps necessary foul, goalkeeper Júlio Cesar tackled Colombian attacker Carlos Bacca in the penalty area, earning another yellow card and a penalty kick to boot. James Rodriguez, Colombia's 22-year-old superstar, converted it into his country's lone goal, giving his teammates hope of "possibly" conquering Brazil. Not a chance, fellas!
But the most egregious foul of the match involved Brazil's own superstar striker Neymar, who was hit from behind by the knee of Colombia's Zuñiga. Neymar was carried off the field in a stretcher. He was later reported to have sustained a fractured rib in his struggle for possession of the ball, and will be out of action for the next six weeks. Obviously, Neymar is not expected to play in the semi as well.
So where was the referee while all this was happening? And what did he do about this flagrant tactic? According to ESPN commentator Ian Darke (my favorite sports announcer, I don't mind telling you) the Spanish referee Carlos Velasco Carballo must have left his cards at home. During the first half of the match, not once did Carballo point out a single infraction — and there were an indecent number of them, to be perfectly frank. All were dismissed with a wave of the ref's hand. Is this any way to officiate, FIFA? If Sr. Carballo had started issuing yellow cards at the outset, Brazil might not have lost Neymar for the duration of the Cup; or at the very least, we might've been spared the spectacle of having the young talent taken off the field writhing in pain — not the most comforting sight for fans.
No doubt the cards are heavily stacked against Brazil in their upcoming bout with the Bully Boys of Germany. Still, I have a feeling the game's not over until the Fat Soccer Lady sings! And she's going to sing a happy tune in Belo Horizonte. Why do I say this? Because Brazil finally started to play like the five-time World Cup champions they are. The addition of Maicon to the starting lineup gave a kick-start to Brazil's offensive line.
Adversity sometimes makes teams stronger. Look at Mexico against the Dutch, or Chile versus Brazil: both sides took the fight to their opponents. If Mexico and Chile lost, it wasn't for lack of trying. Each gave it their all, and they can leave this Cup with heads held high (well… most of them, anyway).
The same can be said for Belgium, who fought the good fight against Argentina earlier today. Lionel Messi scrambled about in unstoppable fashion, as is his wont, thus confusing the opposition by running this way and that. Argentina's only goal in their 1-0 battle, however, came off one of Messi's passes, first to teammate Di Maria, and then on the rebound to Gonzalo Hinguaín, who fired a half-volley shot safely into the net and beyond the reach of Belgian goalie Courtois.
Infractions, We Have Infractions (But No Red Cards)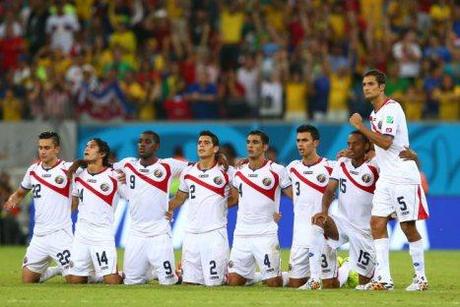 Costa Rica's Los Ticos pray for a miracle
The final brawl of the afternoon occurred when the never-say-die Netherlands met the Cinderellas of the tournament, Costa Rica, the unlikeliest of candidates for World Cup stardom. Making it to the quarterfinals on a hope and a prayer, the guileless Los Ticos had met every challenge posed to them. But this time, they were unable to withstand the ruthless onslaught that such powerful Dutch forwards as Arjen Robben, Wesley Snejder and Robin Van Percie unleashed. It was 120+ minutes of non-stop pounding of Costa Rica's goalie, superhero Keylor Navas, who was able to shut down the Flying Dutchmen until the dreaded penalty shootout.
It was here that Holland's coach, Louis van Gaal (a dead-ringer for William Shatner of Star Trek fame, but with a broken nose) and his bench of assistants (the men in the gray-flannel business suits and orange ties) came up with their game-winning strategy: to substitute the goalie of the match, Jasper Cillessen, for the fresher arms and legs of the gigantic Tim Krul. Navas did his best to block the Netherland's penalty kicks, but his best wasn't enough to turn the tide. Krul stopped two of the Costa Rican's tepid shots on goal, thereby giving the Dutch Masters a semifinal berth against the Argentines.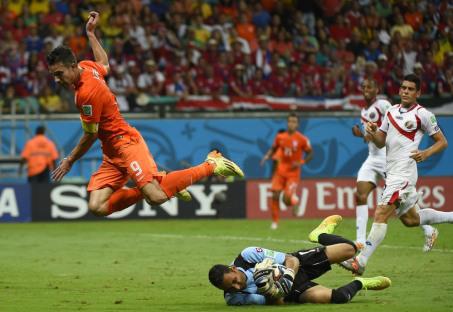 Costa Rican goalie Keylor Navas on the ground
Which brings me to my closing commentary. There are now four teams left standing, two more matches to go before the final confrontation: Brazil vs. Germany, and Netherlands vs. Argentina, both to take place next Tuesday at 3 o'clock PM (our time). I wish all of these squads the very best of luck — and may the best team win. However, a word of caution: may they win by honest means. By that, I mean let fate have a hand in their victory.
In my first post about the 2014 World Cup, I mentioned the unavoidable "Hand of God" moment. To quote from my own writings, "All we need now is another 'Hand of God' moment (I'm referring, of course, to Argentine player Diego Maradona's phantom goal in the 1986 World Cup final against Germany) to lend illegitimacy to an already dubious reputation that the Federation Internationale de Football Association, or FIFA, has no doubt fostered."
Well, dear readers, that moment came to pass. Earlier in the Netherlands vs. Costa Rica encounter, the "Hand of God" struck Navas across the face. To put it plainly, it was more the eleventh-hour Dutch substitute Huntelaar's outstretched arm that blatantly tried to interfere with Navas' goaltending. Down went Navas, and out came the referee's yellow card — which, in my opinion, and after the still earlier roughage of Colombia's goalie by Brazil, as well as Brazil's own roughing up of an opposing player, was the perfect time for a red card. Not this time, thanks to that card-free referee.
Navas' subsequent poor state at the end, along with previous rough play at the goalmouth, may have contributed to his impaired ability to ward off the Netherland's vicious penalty strikes. Did I say "honest means"? A "Hand of God" moment? Make that "Fists of Fury."
Copyright © 2014 by Josmar F. Lopes