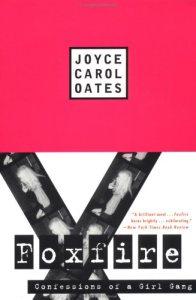 GENERAL INFORMATION
TITLE: FOXFIRE: CONFESSIONS OF A GIRL GANG
AUTHOR: JOYCE CAROL OATES
PAGES: 328
PUBLISHER: PLUME BOOKS
YEAR: 1993
GENRE: CRIME FICTION
BLURB FROM THE COVER
The time is the 1950s. The place is a blue-collar town in upstate New York, where five high school girls are joined in a gang dedicated to pride, power, and vengeance on a world they never made—a world that seems made to denigrate and destroy them. Foxfire is Joyce Carol Oates' strongest and most unsparing novel yet … an often engrossing, often shocking evocation of female rage, gallantry, and grit.
Here, then, are the Foxfire chronicles—the secret history of a sisterhood of blood, a haven from a world of lechers and oppressors, marked by a liberating fury that burns too hot to last. It is the story of Maddy Monkey, who writes it … of Goldie, whose womanly body masks a fierce, explosive temper … of Lana, with her Marilyn Monroe hair and packs of Chesterfields … of timid Rita, whose humiliation leads to the first act of Foxfire revenge. Above all, it is the story of Legs Sadovsky, with her lean, on-the-edge, icy beauty, whose nerve, muscle, hate, and hurt maker her the spark of Foxfire, its guiding spirit, its burning core.
EXTRACT
Never, never tell, Maddy-Monkey, they warned me, it's Death if you tell any of Them but now after so many years I am going to tell, for who's to stop me?
REVIEW
I thought Foxfire Confessions of a Girl Gang was great. JCO offers her take on a coming of age narrative and manages to be original. Legs Sadovsky is one of the best characters I've read in a long time. I found Foxfire Confessions of a Girl Gang an exhilarating read.
I loved the narrator of Foxfire Confessions of a Girl Gang. Maddy was a member of Legs's gang, Foxfire and decides to write a true history of the gang including how the gang came about and was torn apart in the end. JCO uses a first person narrator. Maddy's voice is original and mesmerising. Maddy carries the story of Foxfire Confessions of a Girl Gang and carries you into the darkness with her.
I liked the way JCO structures Foxfire Confessions of a Girl Gang. The novel is split into various sections with several chapters in each section. The chapters are numbered and also have a heading (i.e. One Happy?). The narrative is mostly linear with Maddy starting with how the girls decided to form Foxfire and moving towards the gang's explosive end and ending with Maddy bumping into Rita, a gang member some years later. There are occasional flashbacks to various things the gang and gang members get up to. The works really well.
I was impressed by the characters JCO creates in Foxfire Confessions of a Girl Gang. Legs is the best character. I thought she was brilliant, so flawed, human and real. I thought she was quite a tragic figure. It's clear she sets Foxfire up because she's so unhappy. Her tragic downfall is inevitable and heart-breaking. I also liked the other members of the gang. I found Leg's influence over them quite chilling. They hero worship her which is their downfall.
Foxfire isn't really a gang in the traditional sense. If there's any such thing. The girls don't go about robbing banks and committing crimes. Well not at first. At first Foxfire is about female empowerment, girl power and that sort of thing. Under Leg's influence things start to get more and more out of control. It all goes horribly wrong and Maddy recounts it all in an unforgettable voice.
I like how JCO balances light and dark in Foxfire Confessions of a Girl Gang. At first the gang is about being strong women and defending yourself. Maddy's uncle is a dirty old man and tries to sexually assault her. The gang turn up and beat the shit out of him. Things gradually get darker and darker leading to Legs being sent to prison and the kidnapping of a millionaire that leads to the gang's destruction and Legs's alleged death. I liked the ending when Maddy bumps into Rita and wishes she hadn't.
RATING