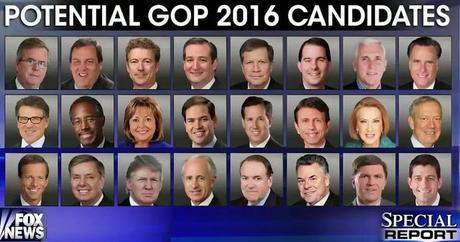 (This images of possible GOP candidates is from The Immoral Minority.)
Fox News has never been "fair and balanced" as they claim. They have long been the propaganda arm of the Republican Party. Now it doesn't seem that is enough for them. They want to pick the candidates for Republican voters -- becoming the gatekeeper for candidates hoping to appeal to GOP voters.
Fox News is scheduled to host the first Republican presidential candidate debate on August 6th, with only Fox News members asking questions of the candidates. That doesn't surprise me. The RNC picked Fox to host the debate because they knew Fox would only ask the candidates easy questions corresponding to Republican guidelines.
The problem is that by August 6th, there will be somewhere between 16 and 24 candidates running for the Republican nomination. Fox has decided that is too many candidates, and announced they will only allow ten candidates to participate in the debate. This is sure to upset those candidates not allowed to debate -- because participating in the debate puts them on an equal footing with all the other candidates, and allows them the chance to greatly enhance their own support. Leaving them out is akin to telling Republican voters they are not worth voting for, and that is simply unfair.
How will they choose those candidates? Fox says it will use an average of the most recent polls to determine the top ten candidates. But those polls must be polls recognized and chosen by Fox News. In other words, polls not liked by Fox News could be eliminated. This gives Fox News complete control over who gets to debate.
And it looks like the Republican National Committee is ready to go along with Fox News on this debate limit. The RNC chairman said they "support and respect" the decision by Fox News. That's just sad. Instead of Fox being the propaganda arm of the Republican Party, it seems that the Republican Party is now just the policy arm of Fox News.
Fox News -- the official Republican gatekeeper of presidential candidates. What other powers will the Republicans cede to their masters at Fox news?