Hello munchkins!As I have already shared my Skin18 sheet masks haul with you (Read here), next I had to try out each product and share my honest views. Yesterday, I tried out the Four Season's Aloe Soothing Waterful Oasis Mask that is helpful in whitening of skin (I haven't noticed anything as such), Anti-ageing, Moisturizing, acne treatment and prevention of allergy. 
Price : Rs 63.22 ($0.95) for a one time use sheet maskClick here to buy from Skin18.com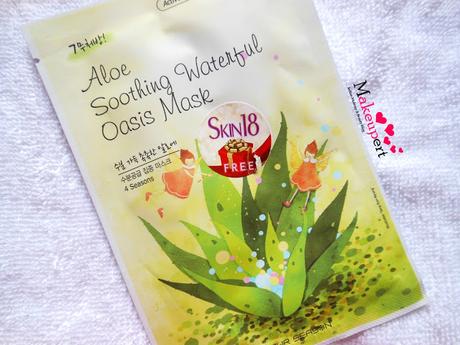 Four Season Aloe Soothing Waterful Oasis Mask (Whitening Function) Review
Four Seasons aloe Soothing Waterful Oasis Whitening Sheet Mask Review, Price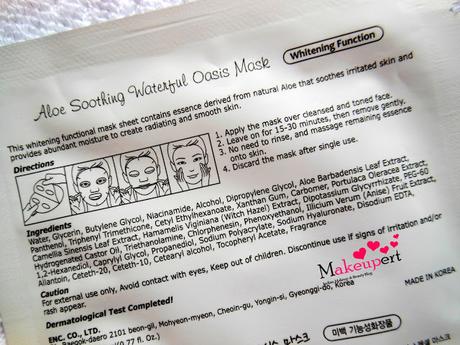 Four Season Aloe Soothing Waterful Oasis Mask Review, Ingredients & Availability



PackagingFour Season Aloe Oasis Mask is a cotton sheet mask which comes packed in a cute sachet packaging with aloe illustrations. How to use and ingredients list is mentioned at the back of the sachet.
TextureThe Aloe Sheet mask is drenched in serum solution and it literally drips when you take it off. There's so much serum inside the sachet that you can apply the rest on your neck, hands and feet as well.
FragranceThe Four Season Sheet Mask smells fresh and remind me of Vaseline Intensive Care Aloe Soothe Body Lotion
– very refreshing and rejuvenated.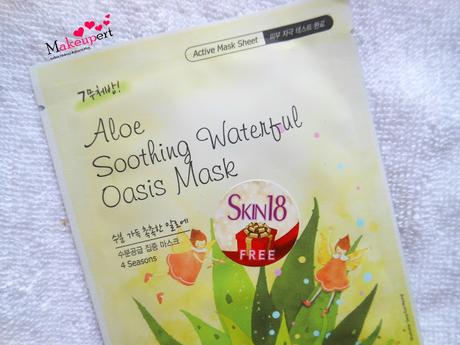 Four Season Aloe Soothing Waterful Oasis Mask (Whitening Function) Review


EfficacyThe Four Season Aloe Oasis Mask has cut-outs for the mouth and eyes region and the slits around the circumference helps in adjusting the sheet mask over any face shape. All you need to do is to clean you face, take out a sheet, place it on your face carefully, gently press it on your skin, secure the edges nicely and sit back and relax. I could find a cooling sensation on my face and the face soaked up all the serum as the sheet gets drier. After 30 minutes, I took off the sheet and massage the left over serum on my face with my fingertips using circular motions. I didn't notice any irritation or skin reddening post using the mask. Somehow, I felt that once the serum is soaked into the skin, my skin feels a tad sticky but that is fine for my extremely dry skin. But oily skin beauties need to splash some water and air dry. My skin felt super soft after I took off the mask. It instantly felt refreshed, hydrated and plumper. You should try these masks when you want to pamper our skin a little more and have a wonderful facial experience at your home. Honestly, whitening function can't be seen just using a single sheet mask, instead one need to try this 5-6 masks a month for visible results.Now, you need not rush to salons or parlors in your busy schedule and invest your money at all. All you have to do is just spare 30 minutes from your schedule and enjoy flawless skin at home without burning a hole in your pocket.


Disclaimer : This is a PR sample provided to me by the brand for review purpose. I wasn't paid for the review and my opinion is 100% genuine and honest as always!