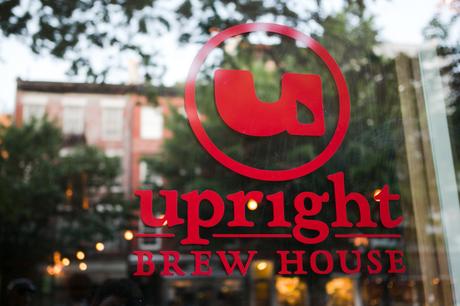 On a beautiful Saturday afternoon in late September, I was invited to attend a Craft Beer tasting session at Upright Brew House in Manhattan's West Village. Since I was told that I could bring a few fellow beer lovers, I invited five friends (Flo, Bonnie, Lauren, Andrew, and Richard) that I knew would enjoy this adventure as much as I. My goal was to invite a group of friends with a wide range of tastes, i.e. folks who's Craft Beer preferences ranged from Sours to IPAs to Stouts and everywhere in between. Without giving too much away, all I can say is that my merry band of drinking buddies exhibited a level of beer tasting professionalism that made me proud!
Before we get to all that went down on that glorious Autumn afternoon, let's find out a bit more about the venue...
Upright Brew House has been offering a variety of unique Craft Beer, Wine, Elevated Bar Food, and Custom-roasted Coffee selections since 2013. Their team rotates a list of rare and mostly local Craft Beer on draft via their 12 tap system along with over 100 unique and mostly locally brewed Craft Beers in cans and bottles. Daniel Neumann, the owner/manager of Upright Brew House, discovered his love for coffee when he installed a vintage espresso machine at his desk while working in advertising earlier in his career. Every morning, before the start of the work day, he would pull shots of single origin espresso for himself and his co-workers. This daily ritual inspired Daniel to open Upright Coffee in Greenpoint, Brooklyn, and then, after dabbling in home brewing, he opened Upright Brew House in Manhattan. Here is a bit more information about their West Village location...
Cuisine: Café style cuisine serving lunch and dinner. Regular menu items include Bar Snacks, Sandwiches and a variety of Signature Plates. Weekend Brunch offers Omelets and Breakfast Dishes, as well as Sandwiches, Burgers and Salads.
Specialty Purveyors: Meats are from Pino's Prime Meats. Breads from Amy's Bread. Pickles from Horman's.
Beverage Program: Craft Beer Bar serving a carefully selected list of desirable Craft Beers.
Design Concept: Neighborhood Craft Beer and Coffee Bar in the quaint West Village. Rustic charm emanates from this classic bistro with eclectic reclaimed design elements, solid wood bar, decorative accent lighting and artwork.
Now that you know a bit about the venue, let's move on to the beer tasting. We tried nine different Craft Beers (Sours, Stouts, Lagers, IPAs, and Double IPAs) and two Hard Ciders during our afternoon session which were sourced from breweries and cideries as far North as Vermont, as far South as North Carolina, as far East as Massachusetts, and as far West as Illinois. From a geographic and flavor profile perspective alone, I'd say we cast a pretty wide net!
Below is the complete list of all that was sampled along with a few comments from the tasting panel (I'm Dana btw):
Folksbier Glow Up Watermelon | Brooklyn, NY | 4.8% | $9

Andrew: "More sour than expected!"
Flo: "Tastes like a European bitter."
Bonnie: "Almost has a strong brass monkey grapefruit warhead flavor."
Lauren: "Very sweet."

LIC Undersides Double IPA | Queens, NY | 8.5% | $9

Andrew: "Classic beer that is both familiar and good."
Richard: "Average good milk"

Burial Surf Wax IPA | NC | 6.8 | $7

Bonnie: "Cloudy finish with a very subtle aroma."
Lauren: "Maybe I'm biased because I like unfiltered beer. Remind me of summer parties at home."
Andrew: "Nice subtle pine and citrus notes."

Descendant Origin Cider | Queens, NY | 6.5% | $9

Lauren: "Apple candy."
Flo: "Really sweet but I like the sour undertone."
Dana: "You can literally smell the cardamom."

KCBC/ 5 Boroughs Folkageist Helles Lager | NY | 4.8% | $8
Blank Brewing The Key to the Bathroom Imperial Stout | MA | 12% |$8

Richard: "Definitely the coolest can and coolest name I have ever seen."
Dana: "It really does smell and taste like apple jacks cereal!"
Andrew: "Hard to drink - lots of conflicting flavors."

Half Acre Goneaway IPA | IL | 7% | $8

Bonnie: "Drinkable and flavorful IPA. Gorgeous can design - would be a great beer for a baseball game."
Lauren: "Average tasting beer, but has good solid branding on the outside of its can."
As you can see from our comments above, our tastings panel's preferences were as diverse and wide ranging as that which was in our glasses. While I can't say that we liked every single beverage sampled, each of us found at least one that we really liked and would seek out again. In no particular order, here are each of our favorites:
_______________________________________________________
Every experienced drinker knows that all beer and no food is a recipe for disaster. With that in mind, in addition to eleven diverse (and intoxicating!) beverages, we were also treated to a wide variety of expertly prepared American Bar Food classics such as...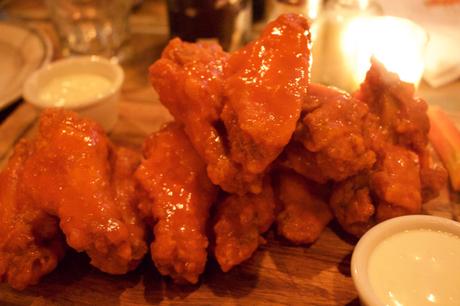 Chicken Wings | Blue Cheese, Carrots & Celery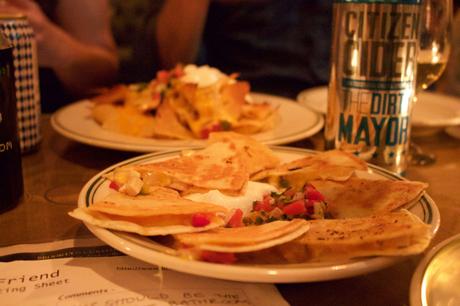 Quesadillas & Nachos

Prime Angus Steak Burger | Organic Boston Bibb Lettuce, Beefsteak Tomato, Irish Cheddar, & Bacon

Fried Grilled Chicken Bacon Cheddar Sandwich | Chicken Breast, Melted Irish Cheddar, Crispy Bacon, Boston Bibb Lettuce, Beefsteak Tomato, & Cajun Aioli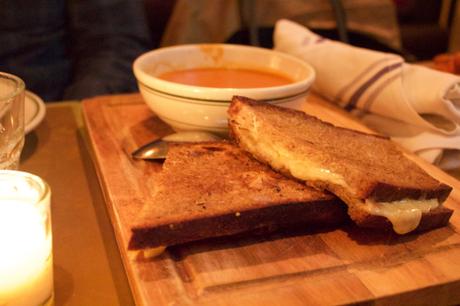 Grilled Cheese Sandwich | Irish Cheddar, Gruyere, Taleggio Cheese, Sliced Miche Bread, Thyme Olive Oil, Tomato Soup

The Upright Salad | Baby Arugula, Cherry Tomato, Cucumber, Parmesan Cheese, Lemon and Oil Vinaigrette
Unfortunately, we weren't as meticulous with our tasting notes for the food as we were with our notes for the beers and cider. That being said, every single thing that we ate was supremely delicious and we had absolutely zero complaints.
As of this writing, there are over 24,000 restaurants in NYC, but sadly, I haven't been to all of them. Thankfully, Upright Brew House is one restaurant that I am happy was brought to my attention. If you enjoy high quality, locally sourced beer and delicious food that pairs beautifully with whatever you're drinking, then Upright Brew House with its fun, laid-back atmosphere and zest for adventurous flavor combinations is the place for you. We're definitely looking forward to a return visit!
_______________________________________________________
Categories: Brew Review, Food Review
Tagged as: Bars, Beer, Craft Beer, Drinkwire, Food, Gastro Pub, Manhattan Brew Pub, NYC, Photography, Photos, Pictures, Review, Reviews, The West Village, Upright Brew House