Meet your porcelain-perfecting match as Dainty Doll introduces a new Liquid Foundation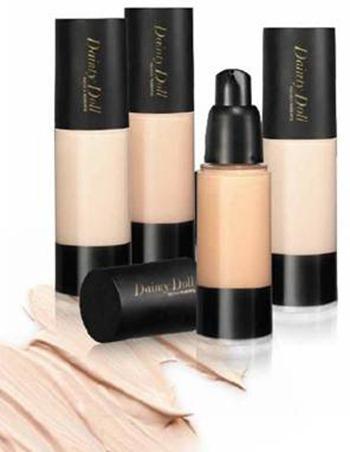 No matter how much beauty trends vary, smooth and flawless looking skin is always in. Now, getting that perfect skin-finish has never been easier thanks to the new Liquid Foundation by Dainty Doll in Baby Now That I've Found You, £22. Hotly anticipated with a long waiting list for this product at retailers, Liquid Foundation by Dainty Doll looks set to become the must-have foundation in the core range.
Created by Nicola Roberts to enhance the beauty of fairer skin tones, the satin formula leaves skin with an enviable smooth and soft-focus finish. The light reflecting particles also give a fresh-faced and luminous look that helps to reduce the appearance of fine lines and wrinkles without clogging your pores, as vitamin E helps to reduce premature ageing.
Build upon this light liquid coverage and control the look you're after. Simply apply a light film of foundation for an ultra-pretty, natural-looking sheen for the day, or build up layer by layer to achieve an immaculate, full coverage and blemish-free finish.
The pump action dispenser controls the amount of product released with each press, giving you the perfect travel-friendly applicator for any touch-ups on the go.
This new Liquid Foundation from Dainty Doll in Baby Now That I've Found You contains essential SPF 15, to ensure your skin is always protected. The skin-loving formula is paraben-free and contains naturally derived ingredients just like the rest of the Dainty Doll range, so you can be sure that your skin is beautifully cared for, as well as covered!
Dainty Doll Liquid Foundation (£22)- Now That I've Found You is available in 4 shades, Very Light, Light, Medium and Dark.
Dainty Doll is available at Boots, Boots.com, Harrods, Harrods.com and Lookfantastic.com