According to Wikipedia, Charles Pugh came out as a homosexual in 2004 and was the city's first openly gay official.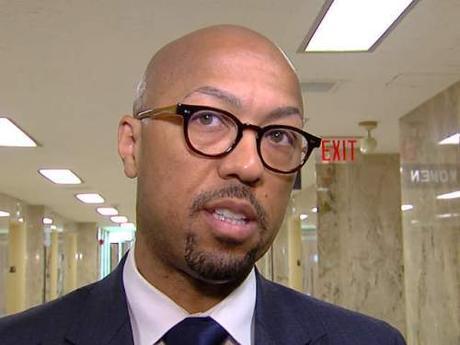 Charles Pugh/WXYZ Photo
Via NY Post: A former Detroit politician was arrested in Manhattan early Thursday for allegedly molesting a teenage boy when he worked as a TV anchor in the Motor City about 13 years ago, officials said.
Charles Pugh, 44, a former Detroit City Council president who now works as a waiter in Manhattan, was nabbed by US Marshals working with Detroit police, according to a statement from Wayne County prosecutors.
The 14-year-old boy went to Fox 2 Detroit, where Pugh worked in 2003-04, to perform with a theater group and asked him about an internship. The two exchanged numbers but the boy didn't end up working there, officials said.
In the summer of 2003, Pugh invited the boy to his home several times, and they kept in touch by phone and text messages, officials said. Pugh allegedly had "inappropriate sexual contact" with the boy at his home from September 2003 through May 2004, prosecutors said.
Pugh faces three counts of first-degree criminal sexual conduct, which carries a maximum penalty of up to life in prison, and three counts of third-degree criminal sexual conduct.
"Despite what the defendant has meant to the city in the past, and the positive work he did here, we cannot and will not turn a blind eye to these alleged facts," according to a statement from Prosecutor Kym Worthy's office. Authorities are working to have him extradited.
Pugh moved to Manhattan after another scandal in which a 17-year-old high school student accused him of offering cash for oral sex and a sex video.
The student met Pugh, who was the City Council president, in 2012 through the all-boys Charles Pugh Leadership Academy program at Detroit public schools, The Detroit News reported.
The boy claimed he had been subjected to unwanted sexual advances and that Pugh played porn movies while the teen cleaned his house, the paper reported.
The teen filed a federal civil lawsuit against Pugh and the school district.
In November 2015, Pugh was found liable for battery and intentional infliction of emotional distress — but the jury dismissed a sexual harassment claim. The teen settled for $350,000 from the district and $250,000 from Pugh.
Pugh appealed the judgment to the US Court of Appeals in January but later abandoned the appeal.
DCG