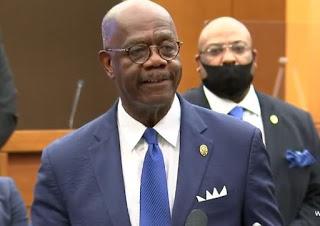 Fulton County DA Paul Howard
A former Atlanta police officer who
fatally shot Rayshard Brooks
in a Wendy's parking lot
is facing criminal charges, including felony murder
, the Fulton County District Attorney's Office announced yesterday. The news probably comes as a surprise to many Americans, who have heard a number of public figures -- including U.S. Secretary of Housing and Urban Development Ben Carson -- state they
viewed the shooting as a possible justifiable use of deadly force
.
That suggests two things: (1) Ben Carson should have stuck to neurosurgery; (2) You never can rely on a Trumpie to provide an accurate depiction of the law. Fulton County DA Paul Howard certainly seems to know a thing or two about the law, and here are his findings from yesterday's press conference,
as reported by ABC News
:
A former Atlanta police officer is facing charges including felony murder and aggravated assault after fatally shooting Rayshard Brooks in a Wendy's parking lot last week, prosecutors said Wednesday.


Brooks, a black man, "was running away at the time that the shot was fired" by Officer Garrett Rolfe, Fulton County District Attorney Paul Howard Jr. said.




"At the time Mr. Brooks was shot," Howard said, "he did not pose an immediate threat of death or serious physical injury."

Prosecutors have spoken with multiple witnesses, consulted with a Taser expert, looked at physical evidence and viewed surveillance video, dashboard camera and witness cellphone video, Howard said.

Howard said he concluded that Rolfe was aware that the Taser Brooks was holding had been fired twice. Howard explained, "Once it's fired twice, it presented no danger to him or to any other person."

After Brooks was shot, Rolfe "kicked Mr. Brooks while he laid on the ground, while he was there fighting for his life," Howard said. "Secondly, from the videotape, we were able to see that the other officer, [Devin] Brosnan, actually stood on Mr. Brooks' shoulders while he was there struggling for his life."
Howard's findings
are in line with Georgia law
, which allows a person to use deadly force "only if he or she reasonably believes that such force is necessary to prevent death or great bodily injury to himself or herself or a third person."
Georgia law mirrors the U.S. Supreme Courts' findings in
Tennessee v. Garner
, a 1985 case that governs the use of deadly force nationally. The central finding in
Garner
:
This case requires us to determine the constitutionality of the use of deadly force to prevent the escape of an apparently unarmed suspected felon. We conclude that such force may not be used unless it is necessary to prevent the escape and the officer has probable cause to believe that the suspect poses a significant threat of death or serious physical injury to the officer or others.
Brooks was not a suspected felon, and DA Howard determined that Rolfe knew the Taser had been fired twice and posed no danger to anyone. Here is more from ABC News:
Surveillance video showed Brooks running through the parking lot with the officers behind him. At one point, Brooks turned and allegedly shot the stun gun at an officer, who drew his weapon and opened fire.
At the time the shot was fired, Rolfe made an "excited utterance," and said, "I got him," Howard said.

Brooks died from two gunshots to his back, the medical examiner determined.

After Brooks was shot, medical attention wasn't provided for 2 minutes and 12 seconds, Howard said.

"The demeanor of the officers immediately after the shooting did not reflect any fear or danger of Mr. Brooks, but their actions really reflected other kinds of emotions," Howard said.
The Georgia Bureau of Investigation continues to look into the matter, and there has been no determination if Rolfe could face federal civil-rights charges.