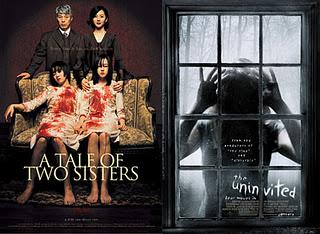 Photos: moviegoods.com / impawards.com



A TALE OF TWO SISTERS (2003) / THE UNINVITED (2009) 


Section of the cinematic cemetery: Psychological Hamlet-like thriller that

'

s not afraid of a little gore

Cause of (premature) death: A Tale of Two Sisters is the highest grossing Korean film in America, and by highest grossing we mean just over $70,000, though it did receive very positive reviews. It

'

s American remake, The Uninvited, fared the opposite: fairly big at the box office but deemed predictable and not nearly as good as its predecessor by critics.

What its tombstone would read: Two sisters who were haunted by a dark past were psychologically tormented by their step-mother.

Why it should be revived: Both of these films are amazing in their own right. A Tale of Two Sisters combines a chilling psychological narrative with creepy supernatural elements known to come from Eastern horrors (ie. Ringu and Ju-On), like stalking ghastly figures with long hair draped over faces and grimy spidery hands grasping from dark corners. The Uninvited keeps the base story intact, but also writes an even darker ending to it, and focusses less on the creepy and more on impending doom and mystery. It

'

s not worth comparing the two, but only to say that one brilliant horror provides the bones for another to do something also great.