Forgotten Frights is back! To celebrate the second anniversary of our annual horror movie roundup, every weekday for the next month we're going to sound off on a scary good sequel (or, if we want some cheese with our corn syrup, a schlocky second), ruminating on the returns of our favorite monsters, murderers, heroes (or heroines), creepies, crawlies, chills and thrills.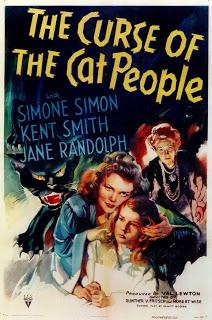 What came before it:
 A B-movie called
Cat People
 about a strange woman named Irena who turns into a panther when she's aroused (sexually or angrily). However, being a cat person psychologically tortures Irena, as she's not allowed to express her love. Things take a turn for the worse when she catches her husband getting too friendly with another woman. Eventually, her inner darkness leads to her demise.
What remains:
 The couple from the first film now has a six-year-old daughter, Amy, who feels isolated and left out by her peers, much like the feelings Irena felt. One day she calls out for a friend. Irena appears and befriends her, a secret she must keep from her parents. However, when her parents find out, they refuse to believe her and force her to feel even further isolated.

Why you should giving it a second (or third, or fourth) chance:
It focusses on the psychological torment of a young child and her greatest fears of loneliness and betrayal. Plus, there are some very strange and spooky moments.
It reminds me of The Turn of the Screw. We think we believe, but we're always doubting whether or not Irena is actually a ghost or a figment of Amy's imagination.
Amy says some disturbing things about herself, like after she blew out her birthday candles, "You know what I wished, daddy? I wished that I could be a good girl," making us wonder if she's actually a malicious child or just misunderstood.
Reference to Robert Louis Stevenson's poem "The Unseen Playmate" about children's imaginary friends but in the context of a horror story, with lines like "When children are playing alone on the green, In comes the playmate that never was seen," it can get creepy.
Truthfully, it's not exactly a horror movie. It's more haunting and unsettling, but sometimes that's what you need for a more lasting effect.