FirstLadyB: Entertainment News With A Purpose
Botham Jean's brother, Brandt Jean told Amber Guyger in court Wednesday that he forgives her and encouraged her to give her life to Christ, before hugging her.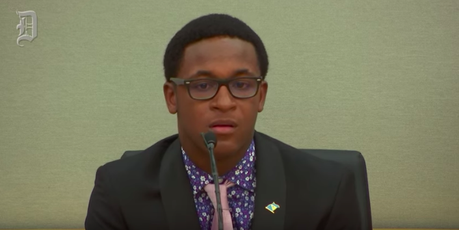 During his victim impact statement, Brandt Jean told Guyger, "If you truly are sorry, I know I can speak for myself, I forgive you."
"I hope you go to God… with all the guilt..with all the bad things you may have done in the past."
"I think giving your life to Christ would be the best thing that Botham would want for you," he told her. "I love you as a person, and I don't wish anything bad on you."
"Can I give her a hug, please?" Brandt asked. "Please."
According to the Dallas News, as soon as judge Kemp said it was OK, Guyger rushed to the Botham's brother and hugged him while they both cried. In the video posted below, you can also see Judge Tammy Kemp wiping away tears during the moment.
On September 6, 2018, Amber Guyger, who was an off duty Dallas police officer, walked into Botham Jean's apartment and shot and killed him. Guyger testified that she entered the apartment, thinking it was hers and thinking Botham was a burglar.
She was sentenced to 10 years in prison.