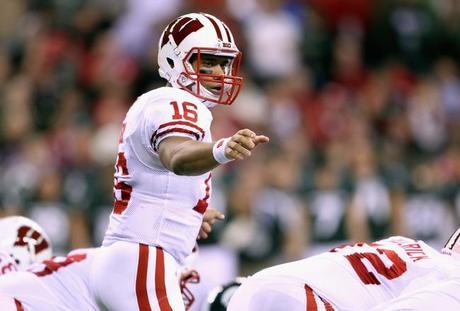 Photo: Getty Images/Andy Lyons
- Adam Parker
I just finished watching ESPN's "Gruden's QB Camp" where host Jon Gruden spends half an hour essentially grilling most of the recognizable collegiate quarterbacks entering the upcoming NFL Draft.
The latest episode featured Wisconsin's Russell Wilson.
This guy was a two-sport athlete at North Carolina State (baseball and football), and he went through spring training leading up to his senior baseball season with the Wolfpack before ultimately realizing that the gridiron, not the baseball diamond, was where he belonged.
NC State, however, informed him of their plans to move forward without him.
That would prove to be a big mistake for the Wolfpack, because as you're about to learn, Russell Wilson is one of the most intriguing sleepers in the upcoming NFL Draft.
Wilson transferred to Wisconsin to be the Badgers' starting quarterback after earning his degree in three years at NC State.
Talk about a big transition.
Going from a spread look to a pro-style power running attack.
But Wilson didn't slow down or let that stop him. Not at all.
Instead, all he did was lead one of the most prolific offenses at Wisconsin en-route to a win in the inaugural Big 10 Championship game and a Rose Bowl berth.
Wilson's in-game performances and stats obviously have made him a lock as one of the better quarterback prospects in this month's draft, right?
Sadly, no. 
Despite his numerous on-field accolades -- he threw for over 11,000 yards with 109 touchdowns and only 30 interceptions during his collegiate days with the Wolfpack and Badgers -- Wilson is still held back in scouts' eyes, not for performance issues, but because "he's too short, he's too short, he's just too damn short."
In my eyes, that's a little ridiculous. Basically, what McShay, Kiper and all the other analysts are saying is 'scrap the rest of this guy's accomplishments, he's no good if he's too short.'
Really?
That's you're reasoning. The only knock on Wilson that most seem to find is that he stands roughly only 5'11". And they scramble right to it -- like vultures to a dead carcass -- when trying to justify their low draft grade for Wilson.
That's a load of crap.
Codswallop, indeed.
Don't get me wrong, I completely understand their reasoning. Taller quarterbacks have a history of being predominantly more successful in the NFL. 
Many point to the cautionary tale of Ohio State's Troy Smith as a reason to avoid shorter signal callers, or at the very least, wait until the later rounds to 'take a chance on them.'
Speaking of which, I find it laughable that Ryan Tannehill is a bonafide top 10 prospect on everyone's draft board after only playing the position for a little over a season on the collegiate level, while the much more-experienced Wilson played it for four.
You have to love the world we live in. It's all about the measurables these days, and to be honest, I'm fed up with it. 
Wilson's height doesn't interfere with his hard work, dedication, mental toughness or football know-how, all of which Wilson has in spades. The only thing it affects is what we perceive of him, thanks to all the tidbits of so-called expert info provided by those on the outside looking in. Oh excuse me, they prefer to be called analysts.  But to be fair, Jon Gruden isn't among them. Here's Gruden's final assessment after meeting with Wilson: "I think Russell Wilson will be one of the steals of this draft. He's going to be overlooked, I think, by some (teams) because of his height. But I do think at the end of the day, when you check back on this draft ten years later, he's going to have had a very good career." Finally someone other than me has seen the light.  If you're still worried about Wilson's height, consider this -- in recent seasons, Wisconsin has touted one of, if not the biggest offensive line in the nation.
Wilson's sight didn't seem to be impaired standing behind those big uglies when he completed 72.8 percent of his throws and threw 33 touchdowns compared to only four interceptions, so what's to say it will affect him in the pros?
That's fine if you don't believe a guy can't cut it playing the toughest position in professional sports, but I refuse to accept that it's because he's 'vertically-challenged.'
Oh, and in case you're wondering, this isn't the rant of some short guy who is tired of having his ego bruised -- I'm 6'5" and proud of it.
But nonetheless, my opinion on this matter doesn't change.
Most of today's mainstream quarterbacks may be mountains of men like the Peyton & Eli Mannings, Tom Bradys, Ben Roethlisbergers or Cam Newtons. 
Would they be any worse if they were shorter? Maybe. Maybe not.
But one last piece of info before I let you off the hook.
I brought up Troy Smith earlier when talking about the cautionary tale of drafting a shorter quarterback. But to help make my case for Russell Wilson, here's a few more names for you, starting with another 'mountain of a man' that couldn't cut it in the NFL -- JaMarcus Russell -- whom many consider to be the biggest draft bust in the history of the league.
Then you have guys like Michael Vick, Drew Brees and Hall of Famer Fran Tarkenton. All below the 'preferred' 6'2" minimum height. All have or, in Tarkenton's case, had stellar careers in their own right.
Measurables aren't everything when it comes to being a successful quarterback. What's between the ears

counts for something too.
Be sure to follow Beard And Stache on Twitter 
@BeardAndStache
, 
and also Adam 
@Adam_Parker43
, Like our Facebook page 
HERE
!