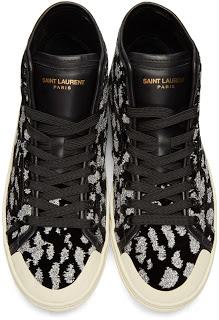 Saint Laurent Black Animal Print SL-37 Sneakers
Where's your wild side? Does it come through in your profession, your expression or perhaps in your footwear? Well Saint Laurent certainly coolly fulfills the man who wants to walk on the wild even if he's just stomping around downtown with these Black Animal Print SL-37 Sneakers. The upper is a sharp black velvet which has a silver glitter animal print detail all throughout. The toe box is trimmed in white leather and the shoe anchored onto a sturdy rubber sole. Feel free to dress this up for a night in the urban jungle or play it low key for those moments of hunting and gathering during the day. Available now at Ssense.com.
Category: Men's Shoes, Men's Sneakers, Mens, Mens Fall/Winter 2016, Mens Footwear, Mens Pre-Fall 2016, Mens Style, Mid-top sneakers, Saint Laurent, Shoe Blog, Shoeography, Ssense.com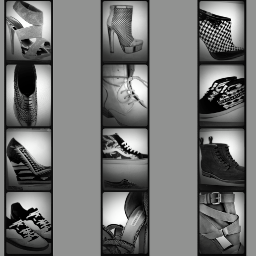 About SHOEOGRAPHY.COM:
Shoeography.com is a daily footwear blog highlighting what's new and what's hot in mens shoes, and women's fashion shoes!