With both sides in good form and just two points still separating them, we asked you who is in the best position to triumph and over 60 per cent backed the second-placed side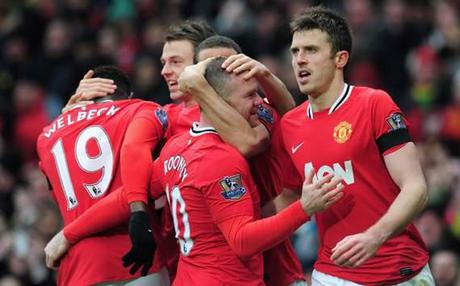 Football Forever blog
readers believe that 
Manchester United
 are better placed than 
Manchester City
 to win the 
Premier League
 – despite trailing their rivals by two points.
Both sides won again at the weekend and, with the Red Devils seeing off Tottenham, the championship tussle is almost certainly down to just two contenders.
The two clubs are now set to face off in a pivotal derby on April 30 at the Etihad Stadium.
Despite being at a two-point disadvantage and having to travel to their rivals' home ground for the crucial clash, 60.55 per cent of voters in our poll were of the opinion that Sir Alex Ferguson's side are in pole position to go on and claim eventual victory.
However, a sizeable minority of 28.99% backed Roberto Mancini's men to follow through on their slender advantage and triumph in the league for the first time since 1967-68.
The remaining 10.46% of the 8,827 readers who responded to the poll felt that things are too close to call and that the two Manchester clubs are on a level playing field going into the final 11 games of the Premier League season.

Click here to view the original poll and comments from the participants.
Football Forever Blog Poll
Who is best placed to win the Premier League title?Manchester United 60.55%Manchester City 29%It's a level playing field 10.46%