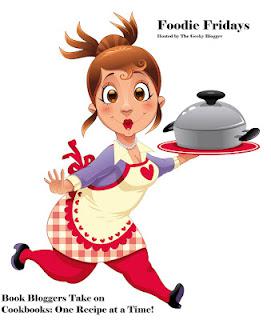 I'm back again participating in the Geeky Blogger Book Blog's new Foodie Friday's meme.  She started this meme to combine her two faves--books and cooking.  Seeing as how I share those loves AND cooking decreases my stress, I couldn't contain my excitement.  I could kill two birds with one stone. It will be the perfect addition to Reflections of a Bookaholic as other content will slow and I can document the cooking I will do as I attempt to decrease the stress of bar prep.
First Cookbook up?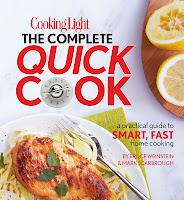 Barbecued Chicken Pizza
Ingredients
1 (10 oz) whole-wheat thin Italian pizza crust
6 tablespoons bottled barbecue sauce
1 cup shredded skinless, boneless rotisserie chicken breast
3/4 coup (3 ounce) shredded smoked Gouda cheese
1/2 cup diced red onion
1/2 teaspoon dried oregano
1/2 teaspoon crushed red pepper
1/4 cup (1 ounce) freshly grated Parmigiano-Reggiano cheese
1.  Preheat oven to 450 degrees.
2.  Place crust on a large baking sheet.  Spread barbecue sauce over crust to within 1/2 inch of edge.  Sprinkle with chicken, Gouda, onion, oregano, crushed red pepper, and Parmigiano-Reggiano cheese.
3.  Bake at 450 degrees for 16 minutes or until cheese melts and crust is golden.  Cool for 5 minutes.
Yields 6 servings, but I cut mine into 4.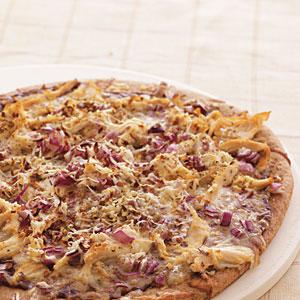 Review:
This recipe is FANTASTIC!
I'm not even usually a fan of barbecue pizza.  I tend to like supreme or pepperoni, nothing fancy.  But the hubby loves barbecue chicken pizza so this recipe caught my eye. I'm so glad it did.
I learned... that pizza crust can be found outside the frozen section ;)
I loved... how quick and easy it was to make.  I had to shred the Gouda cheese so that slowed me down a bit, but other than that, I'm thinking a 5 minute prep tops.
I loved... that it was so good!  A study buddy was over and shared with me.  He said, "I'm so excited for [my hubby]."  I asked him why and he said, "because he gets to eat this for the first time."  I couldn't help but laugh but I will definitely ensure that I have all the ingredients for this pizza in my pantry at all times.
I love... that there are more pizza recipes in this book (Pear and Prosciutto; Chicken, Red Grape, and Pesto; and Pizza Provencal).  It makes me so hopeful that the others will be just as amazing.
I later bought some mini round pizza crusts so I can make this in single servings.  I'm not so sure if I would want to reheat this.  P.S.  This says 6 servings but I feel like it is the size of a small to medium delivery pizza.  So I don't think it could feed four people.  Three of us ate off of this one.
Previous Recipes from Cooking Light: The Complete Quick Cook
Hunan Lamb