Hello everyone!
Another mask review! I'm really liking sheet masks these days, it makes my skin look great and very relaxing. Those of you who haven't tried these - well you should! Today I'm reviewing the Foodaholic 3D Orange Natural Essence Mask from Skin18.com.
Price : $1.50 (Rs 93)
Buy online from Skin18.com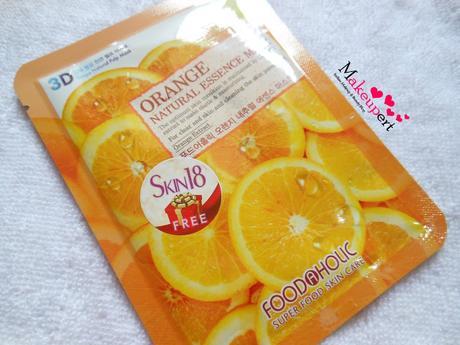 Foodaholic 3D Orange Natural Essence Mask Review
Foodaholic 3D Orange Natural Essence Mask Review, Price, Photos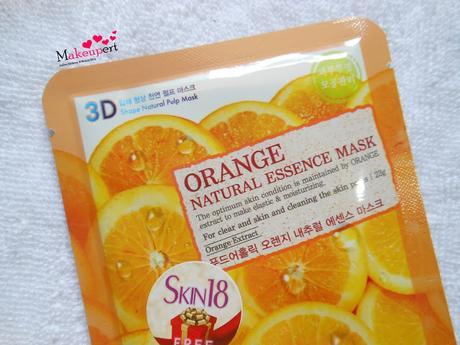 Notable Ingredients -
Orange Extracts - Oranges are rich in Vitamin C and helps maintain skin glow as well as improves skin elasticity through skin pore contracting effects. Vitamin C helps in softening dead skin cells, brighten dull skin, lighten scars and dark spots and even skin tone. 

Foodaholic 3D Orange Natural Essence Mask Review
The mask shape is pretty weird, I guess it is because of the 3D fit - it folds down the face and sticks out and tucks under the chin. It stayed on my face well, but I didn't feel super comfortable.
The mask has a light floral scent which wasn't very overpowering and has undertones of lemon and oranges. The mask feels calming after leaving in refrigerator a couple of minutes before applying. Not much serum, though like the Four Seasons Aloe Soothing mask but enough to rub onto the hands as well.

After 30 minutes, I took off the sheet and massage the left over serum on my face with my fingertips using circular motions. I didn't notice any irritation or skin reddening post using the mask.

Somehow, I felt that once the serum is soaked into the skin, my skin feels a tad sticky but that is fine for my extremely dry skin. But oily skin beauties need to splash some water and air dry. 
Although the results wasn't instantaneous, the next morning my face looked more plump and clearer. I don't have open pores, so can't comment on that but overall, the mask does its job pretty well.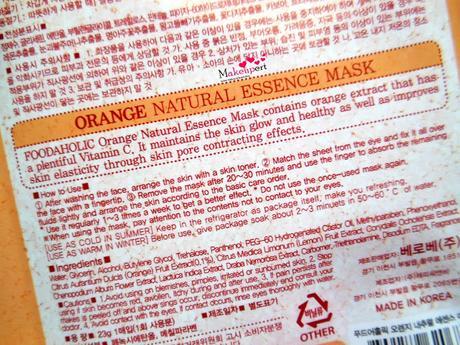 Foodaholic 3D Orange Natural Essence Mask Ingredients
Disclaimer : This is a PR sample provided to me by the brand for review purpose. I wasn't paid for the review and my opinion is 100% genuine and honest as always!