Yamato: Authentic Japanese cuisine in Tollcross
Named after an ancient region and period in Japanese history - a quick trip to Wikipedia says 250 -710 AD. It was considered a harmonious time, perhaps because this was when Buddhism was introduced to the country. In fact, the world's largest bronze statue of the Buddha (Daibutsu) can be found in Nara prefecture, where Japan was ruled from at that time. Other 'traditional' Japanese items such as sake, tea and rice originate from this era.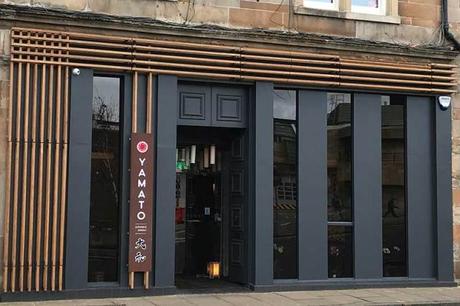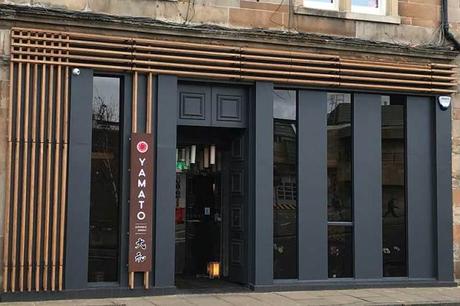 Yamato, the restaurant that is, can be found in the Tollcross area of Edinburgh and is the sister restaurant to Kanpai sushi on nearby Grandly Street (just behind the Usher Hall).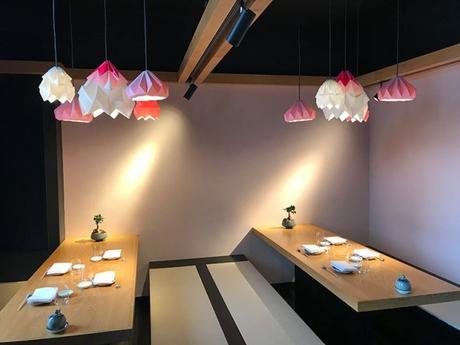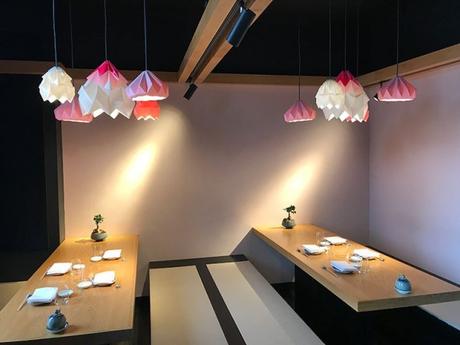 We knew where the popular Kanpai was but not Yamato, so it took us a while to find it - just off the main road, round the side of the Cameo Cinema - but when we got there we instantly liked the look of the place. Minimal, geometric, zen-like with origami-style light fightings above some of the tables, bonsai trees, cute little teapots and thick, not flimsy, napkins set at the table.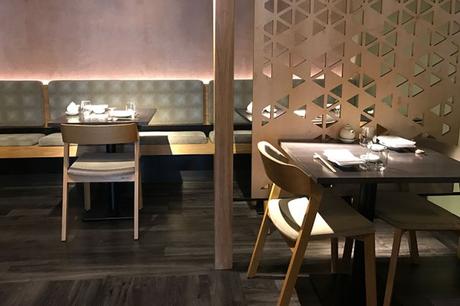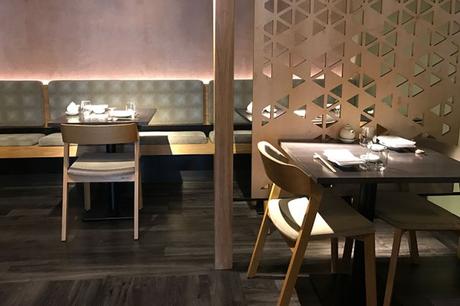 Their website states 'Japanese Dining Simplicity First' and I'm sure we won't argue but a lot of the ingredients are higher-end than your typical Japanese restaurant in Scotland. We knew they had wagyu before arriving, but also discovered sea urchin and otoro on our visit. What is otoro you ask? It's the most most expensive and tasty cut of blue fin tuna, from the belly. So sought after that it has a website - otoro.com!
The menu is split into five categories Sushi, Tempura, Teppan, Classics and Specials. We picked from Sushi, Tempura and Classics.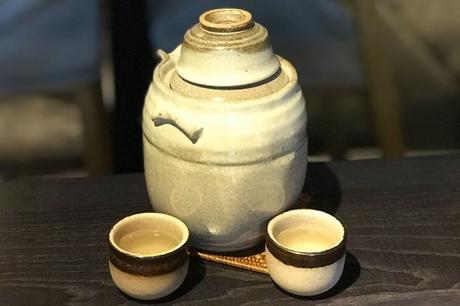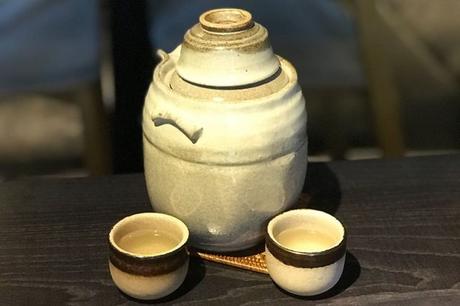 We tend to stay off the wine in Japanese restaurants, usually preferring beer but here we had a page full of sake options so why not for a change, especially when they serve it hot (well, a few can be heated)! It came out in a sort-of teapot to be shared between two.
In Asian-style, dishes arrive when ready and so...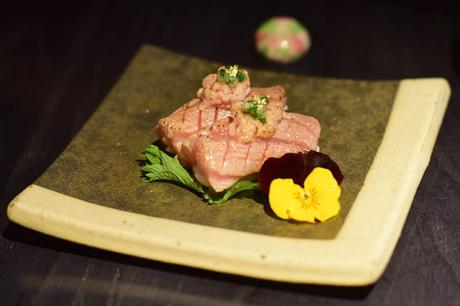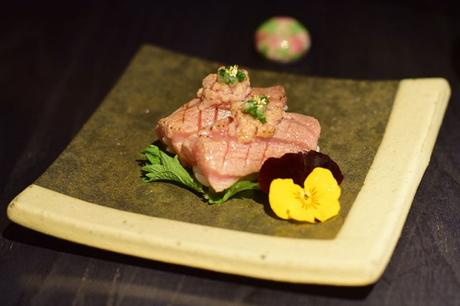 Otoro tuna belly nigiri (£11.90)
Starting with the good stuff. Wonderfully pink tuna belly. It's expensive (is that gold leaf on top?!) but taste it and then you'll know why - lean, tender, fat, like a good steak, but more melt-in-the-mouth, a bit like wagyu in fact...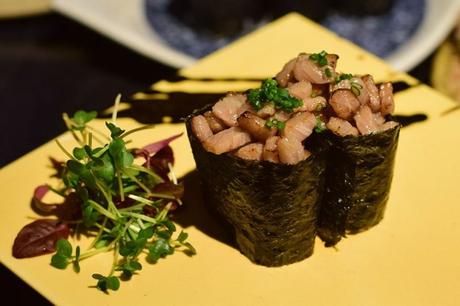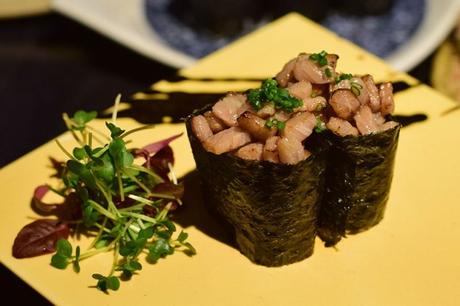 Grilled Wagyu Gunkan (£10.50)
If you've never tried wagyu before, it's steak unlike any other steak, so rich, fatty and buttery. This is the first time we've ever tried it with sushi, chopped into little pieces served in gunkan form, which we thought would be a bit different, rather than nigiri (but this is also on the menu should you prefer).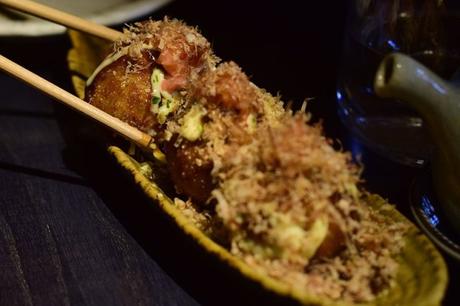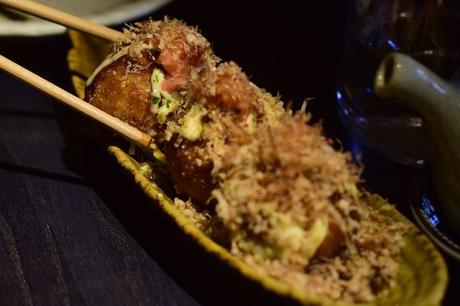 Takoyaki (£4.90)
AKA octopus balls is a great street food snack, which we've eaten a few times on our travels in Japan. They are dough balls filled with chopped octopus in a crispy exterior seasoned with Kewpie Japanese mayonnaise (richer and creamier than the UK/US version as it only has egg yolks and no whites) and a tangy sauce (a bit like Worcestershire sauce).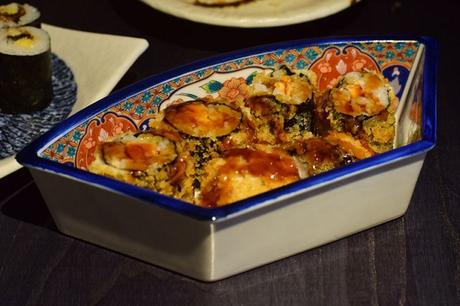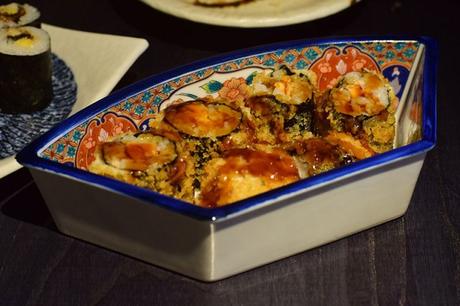 Panko-Coated salmon maki (£5.90)
These came in a larger portion, making it excellent value-for-money. We both love salmon maki, panko breadcrumbs and we both love it when our food is doused in a tangy sauce!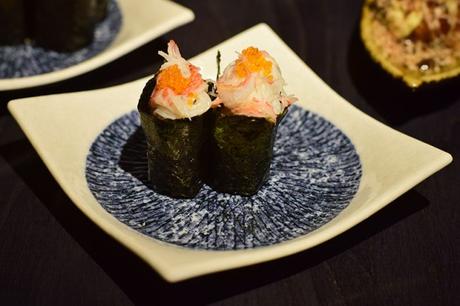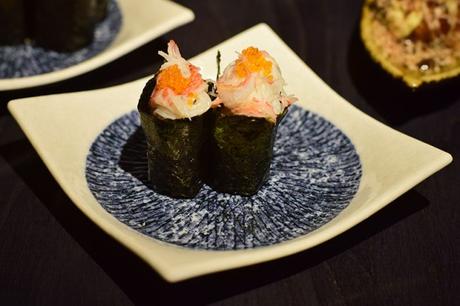 Snow crab gunkan (£5.90)
Another unusual one, snow crab isn't something you come across too often. Delicate white meat topped the sushi rice held together and neatly wrapped by crisp nori.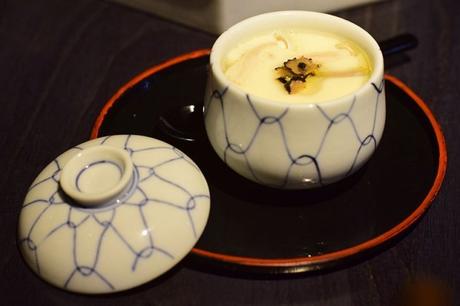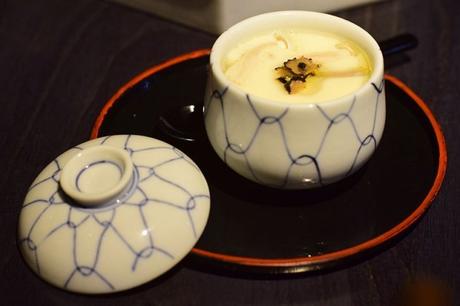 Chawammushi (£4.50)
Not quite knowing what we'd ordered, we realised when it arrived that this was something we had actually eaten during our trip to Japan. It's a sort-of savoury egg custard served hot with scallop, prawn, brown himeji mushroom and truffle sauce, which probably sounds a bit weird but its comforting and worth a try.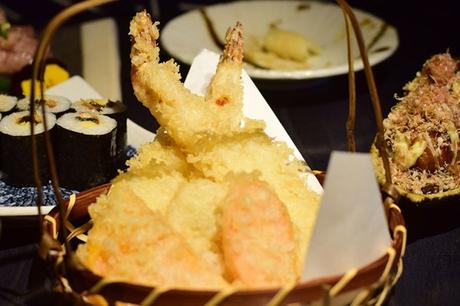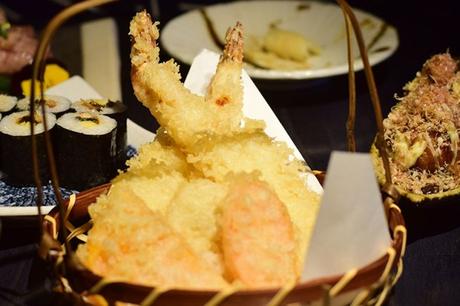 Assorted tempura (£9.90)
Tempura is another Japanese food love for us, whether it's vegetables or prawn, and here we had a mix of both. We both agree that the best tempura we've ever eaten was in a random restaurant underneath Tokyo train station and although this wasn't quite as magical it wasn't far off.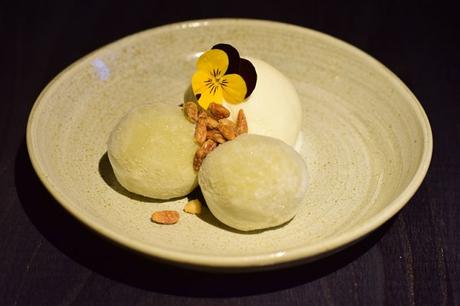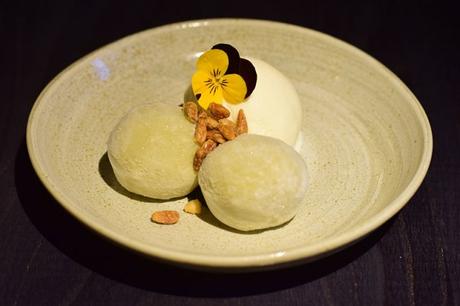 Matcha mochi (£3.90)
For dessert, they only have two options so naturally, we ordered both! Mrs Foodie is a big matcha fan so she had the chewy green tea mochi with a scoop of ice cream (of your choice, in this case white sesame).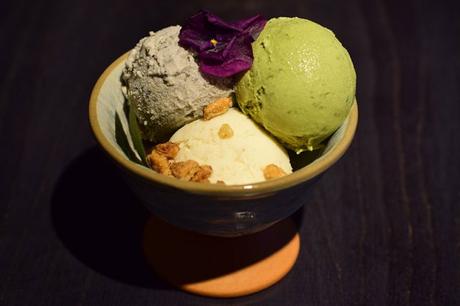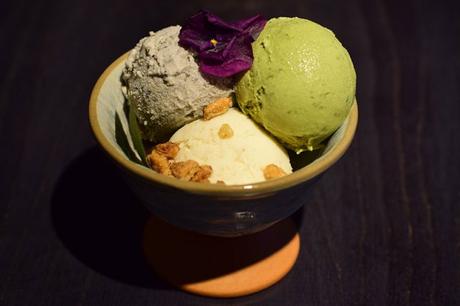 Ice cream (£3.90)
While I had a trio of all available ice creams: matcha, white sesame and black sesame, which was our favourite.
The verdict
We are avid fans of Japanese food, having travelled there twice so we are always on the lookout for authentic restaurants closer to home and this is probably the best one yet! The wagyu and otoro were oh so tasty, the tempura was almost as good as our favourite tempura ever, the takoyaki hit the spot, it was great to see chawammushi on the menu (dobinmushi, lotus chips and a few other unusual things are also listed), the other sushi was great and the desserts, though limited in choice, were both a pleasant end to the meal.
if you love Japanese cuisine then Yamato should be next on the agenda! Recommended if you're going to see something at the Cameo and need food before or after. Staff were excellent, friendly and chatty without being obtrusive. Toilets also clean and tidy.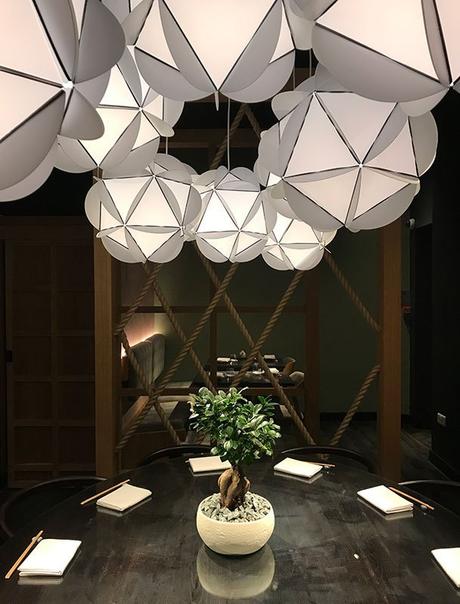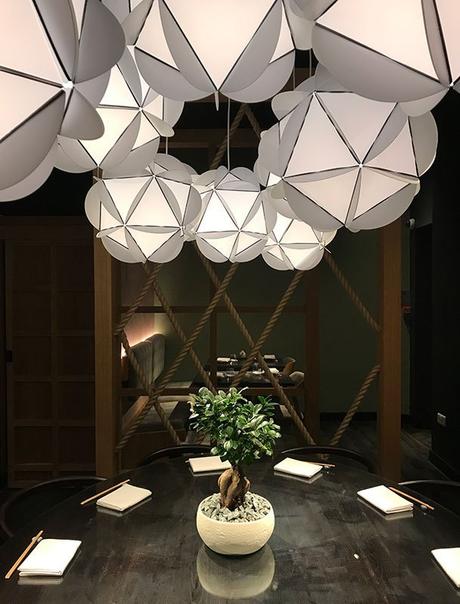 TL;DR
+ Beautiful restaurant
+ Sake menu (including hot sake)
+ Dishes that are hard to come by: chawammushi, dobinmushi, lotus chips...
+ Ingredients that are hard to come by: wagyu, toro, snow crab, sea urchin...
+ Exquisite food
+ Great staff
+ Toilets looked after
- Pricier than other Japanese restaurants (but there's a reason why)
- Limited dessert options
Location
11 Lochrin Terrace, Edinburgh
Website / Opening hours
yamatosushiedinburgh.co.uk
Disclaimer:we were privileged enough to enjoy a complimentary meal to the budget of £80 for the purposes of review. Fred is very jealous as he says the tuna we feed him is definitely not otoro, and the beef we fed him is not wagyu, and the...