New Tony Macaroni's now open in Edinburgh
Tony Macaroni is ever-expanding with 11 restaurants currently in Scotland and more on the way, we made the visit through to Edinburgh to try out the new menu in their newest restaurant on the north-western edge of the city.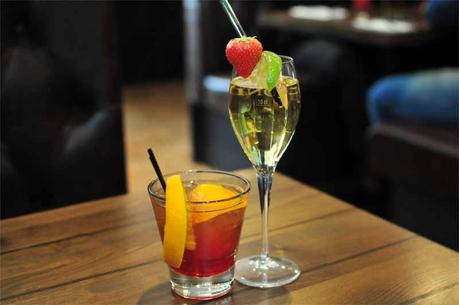 Tony Macaroni – Cocktails
We had a couple of cocktails to get us started. Regular cocktails are priced at £5.95, prosecco cocktails are £6.95.
The menu in the Queensferry road restaurant was designed by Italian master chef, Fabio Campoli and features a few intriguing dishes…
Starters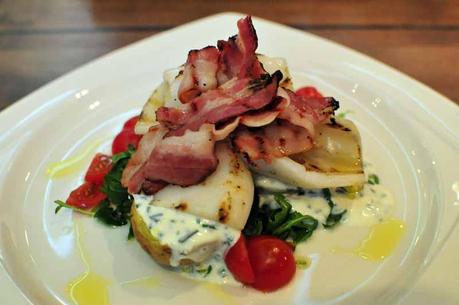 Tony Macaroni – Calamaro Vestito
Calamaro vestito £6.50
We opted for this because it sounded a bit different! Grilled squid and bacon on baked a potato with yogurt chive sauce?!
It was an unusual combination and a huge portion – 1 and a half baked potatoes  topped with rashers of bacon and squid. Perhaps not the most obvious cobination in the world but bacon and the squid were fine together and the potatoes were hot and fluffy with a cool pleasant sauce.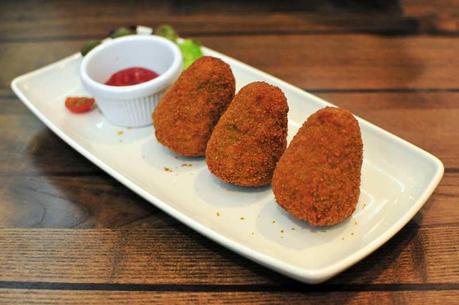 Tony Macaroni – Arancini Mediterraneo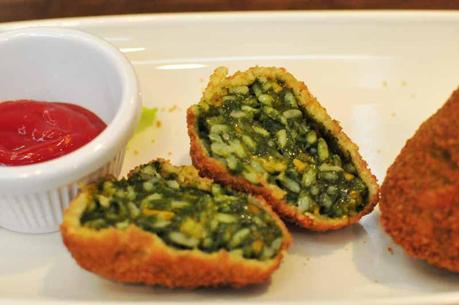 Tony Macaroni – Arancino Mediterraneo
Arancino mediterraneo £4.75
We're starting to see arancini more and more in Italian restaurants in Scotland and these little deep fried breadcrumb-coated rice balls were very nice, with a good contrast between the crunch and soft spinach and Parmesan interior, though the cheese taste could've been stronger.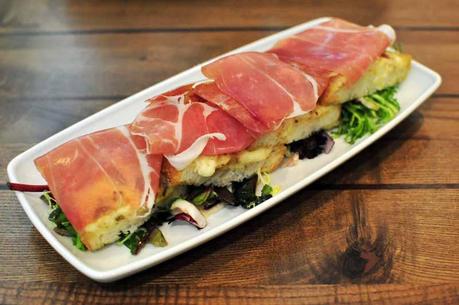 Tony Macaroni – Alla provatura crostini
Alla provatura crostini £5.95
Soft bread, gooey cheese, nice anchovy paste, garlicky, Parma ham. Mmmm, this could've been just another "sandwich" but the anchovy paste gave it a good bit of life. We shared these rather than having the usual boring focaccia. There's a selection of other crostino too.
Main courses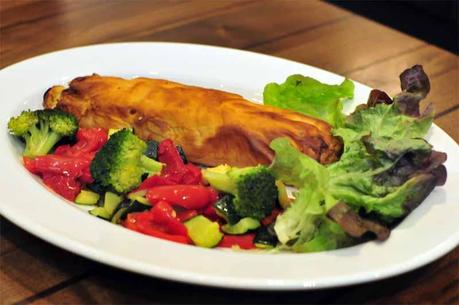 Tony Macaroni – Spigola alla fiorio
Spigola alla fiorio £16.95
Fillets of sea bass, king prawn & creamy salmon baked in oven with roast potatoes, and another big portion. Delicious fish in a sort of flaky burek-style pastry (which we both love). The vegetables were all perfectly cooked too.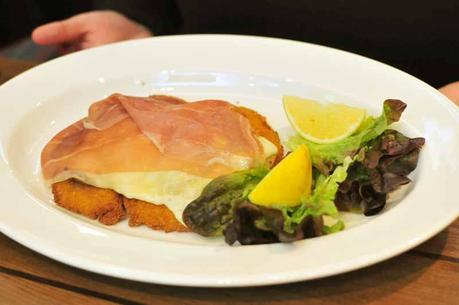 Tony Macaroni – Vitello maresciallo
Vitello maresciallo £18.95
Pan-fried veal escalopes coated in breadcrumbs with mozzarella and Parma ham. Not as large as, and perhaps a bit boring looking compared to some of the other dishes but this was really tender veal (as it should be!) which worked well with the cheese and ham.
Desserts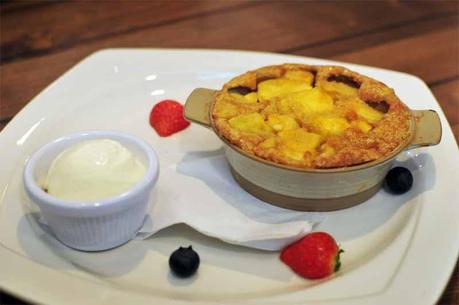 Tony Macaroni – Tuttamela
Tuttamela £5.25
A homemade-style apple-pie in a dish with ice-cream. A simple homely sort of apple pudding and quite filling.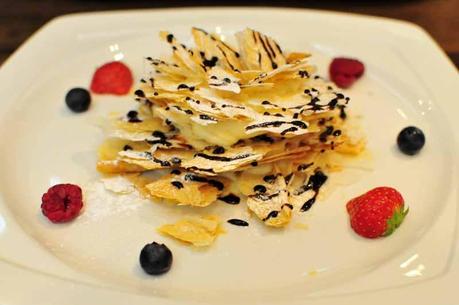 Tony Macaroni – Millefoglie Sbriciolata
Millefoglie Sbriciolata £5.25
Quite fanciful looking light puff pastry dessert with chantilly cream, berries and chocolate sauce. A nice light palate-cleansing end to the meal. We enjoyed this one too.
Conclusion
This was Mr.Foodie's first experience of Tony Macaronis and he was very impressed! High quality food with interesting & unusual flavor combinations. Portion sizes were immense and we were both utterly stuffed by the end of the meal. We had a few minor comments about the food but nothing major. Service very efficient too. All-in-all, a very pleasant dining experience in a clean, modern location with open kitchen area and very nice toilets (both male and female). We shall need to check out some of their other establishments – Tony Macaroni restaurants will be coming to Cumbernauld and Lanark in 2015…
…and if you enjoyed the food, why not buy Fabio's cook book which is on sale.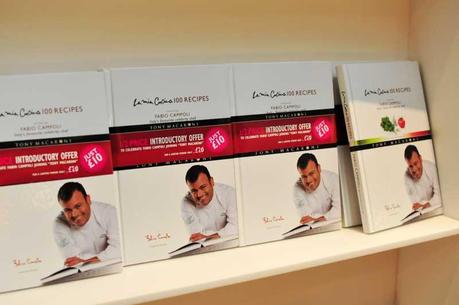 Tony Macaroni – Fabio Campoli's 100 receipes book
We traveled by bus (the 41 and 43 Lothian services stop just outside on Queensferry Rd) and we dined as guests of the restaurants.
TL;DR
+ big portion sizes
+ unusual food cominations
+ high quality good
+ toilets spotless
+ you can watch the chefs in action
- a few minor comments about the food