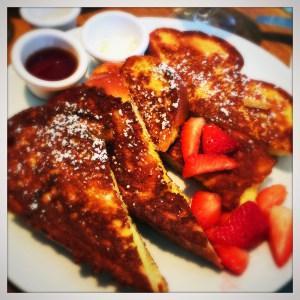 NYC Brunch
Julie @Glasgowly recommended Sarabeth's Tribeca for brunch and not one to be rude (well sometimes Mrs Foodie can be!) we wandered along to this upmarket chain at 20 to noon hoping to grab a table before the lunchtime rush but it was already packed when we got there. We were advised of a wait time of 20 minutes but it was 0ver 30 minutes of standing before we got a seat. This is a very popular place. You can reserve on their website, which also lists their menus.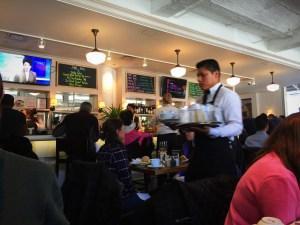 Click here for their brunch menu.  Mrs Foodie ordered a White Peach Bellini ($13) and Mr Foodie a Kelso Pilsner ($8) which was pretty fruity and had a Belgian ale tinge to it. The beer selection is small compared to other places we visited in Manhattan but has a few decent choices.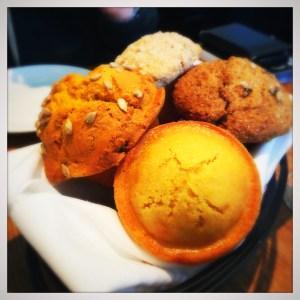 We were starving. So a starter of "basket of Sarabeths muffins and legendary preserves" were ordered.  Four muffins which we think were corn, bran, pumpkin and a fruit scone.  Served with the smallest portions of jam and cream ever – enough for the scone perhaps!?  Now the cream, or whatever it was, it was certainly was not cream – it was some kind of fake, plastic tasting white grease.  The table of Japanese ladies next to us also gazed in bewilderment at whatever it was too.  They tasted it then moved it aside.  A bit like ourselves. The jam was fine but hardly the stuff of legends.
The muffins were dry and tasteless so we weren't impressed by this point…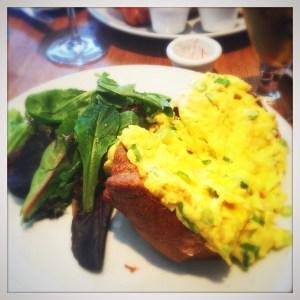 Stuffed popover ($17:50) – scrambled eggs with cream cheese and spring onions in a Yorkshire pudding like batter and served with salad.  It looked like a baked potato filled with a huge amount of creamy, well-made scrambled eggs. It was big, filling and importantly tasty.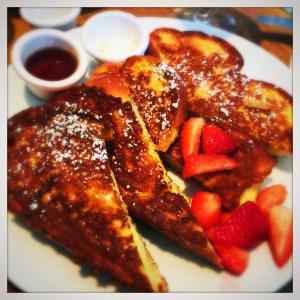 Mrs Foodie ordered French Toast ($18).  Cooked American-style and not British, in that it was sweet and not savoury.  Fluffy Brioche bread served with maple syrup and that weird cream. Delicious (cream aside!).  Well worth stopping by for.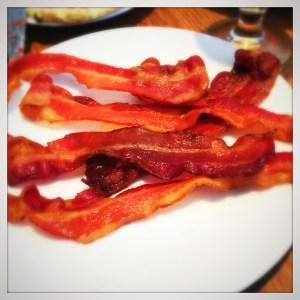 A side of bacon ($8.50).  Crispy and tasty.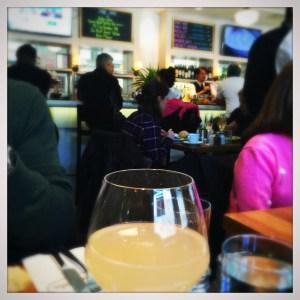 Mrs Foodie's white peach Bellini.  It wasn't a large serving and she thinks the peach was still sitting at the bar.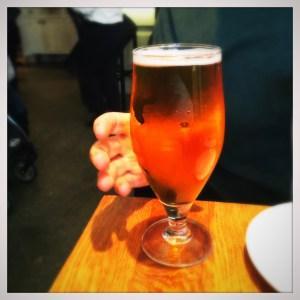 At $86.56 this was an expensive brunch and almost twice what we paid for brunch in Brooklyn the day before.  It's definitely a place to be seen in with lots of ladies posing.  Aside from the muffins/cream, the dishes are pretty good but perhaps not worth the expense. Staff were friendly, helpful and kept very busy. The restaurant was clean, tidy and looked after. The toilets were clean but don't be desperate to go, 3 toilets for 250 people!?
TL;DR
+ place to be seen
+ Mostly good food, filling portions
+ good beer
+ clean & tidy, staff helpful
– expensive
– The "cream". WTF IS IT!?
– long queues with no seating. Make sure to book!
– only 3 toilets for 250 people?
Opening Hours: 8am to 10:30pm
Subway: line 1 at Franklin Street.