Tapas Dining in Finnieston, Glasgow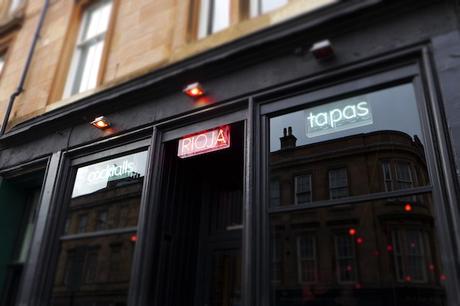 Outside, Rioja, Glasgow
Named after the wine region in Spain,
Rioja
in Hipster-friendly Finnieston is competing with the likes of The Gannet, Ox and Finch, Porter & Rye etc…as a result this is not your usual tapas experience. The concept is: modern tapas, fine-dining tapas or tapas with a twist (take your pick). There's a full page of the
menu
devoted to tapas you've possibly not come across anywhere else plus a page of traditional items for the wary but you won't find bullfighting posters or castanets on the walls here, instead a wine rack reaches up to the ceiling where lampshades and even a shoe are hanging. This is quirky hipster Finnieston after all.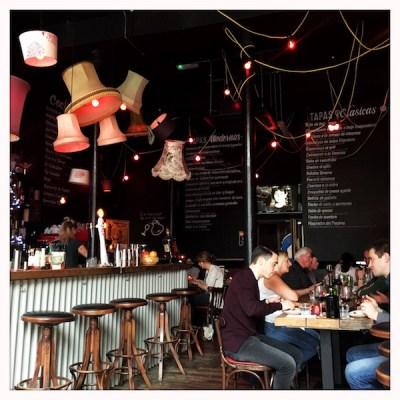 Inside, Rioja, Glasgow
In addition to the wine there's a small selection of Spanish beer,  Spanish-influenced cocktails and jugs of Hugo (elderflower and cava) and "posh" sangria. We decided on the latter (£19.50) which was very refreshing and lacking the oomph of bad wine.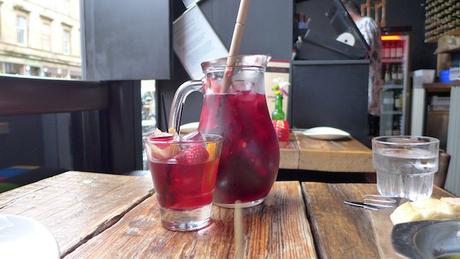 Posh Sangria, Rioja, Glasgow
Bread and olives were pretty tasty. In a piquant onion mixture.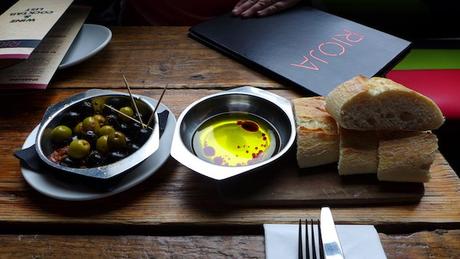 Olives and Bread, Rioja, Glasgow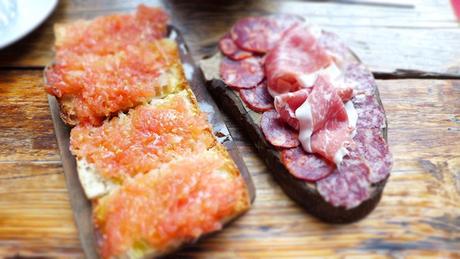 Pan a la Catalana and Meat Platter, Rioja, Glasgow
Pan a la Catalana with lots of garlic, heaped tomatoes and olive oil on thin slices of crusty white bread and beside it a meat platter with a sweet floral chorizo, Iberico style ham and a herby Spicy salami (like German sausage)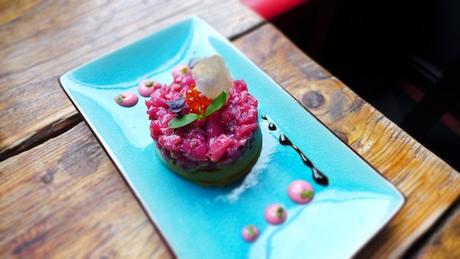 Salmon tartare with guacamole and lime dressing. Rioja, Glasgow
The salmon tartare was something different.  Very colourful, the guacamole could have been colder for our liking but it was still a distinctive dish.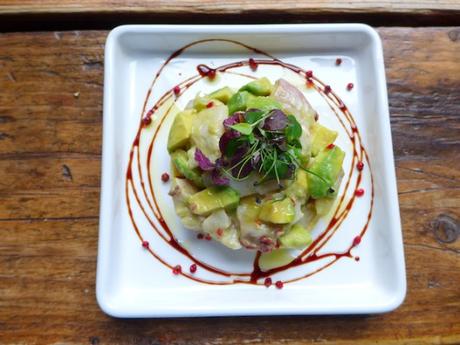 Seabass ceviche, a cold salad of marinated seabass and avocado. Rioja, Glasgow
Sea bass ceviche.  Big chunks of fish and not the usual thin strips, mixed with avocado, baby sweet corn and aromatic pink peppercorns and some lime. A good introduction to ceviche – the fish was meaty but didn't taste raw. The peppercorns provided a buzz along with the lime.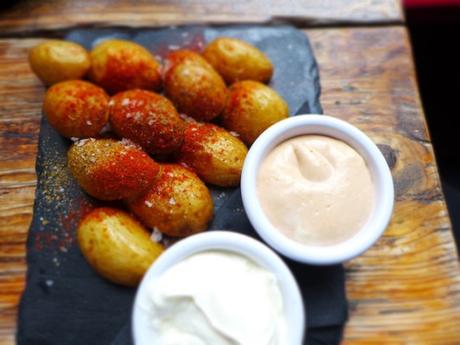 Patatas Bravas spicy Spanish potatoes, Rioja, Glasgow
Patatas bravas.  Little baked potatoes covered in spicy paprika and sea salt.  MMMM, THE BEST patatas bravas Mrs Foodie has ever had.  Served with sour cream and a very nippy paprika dip.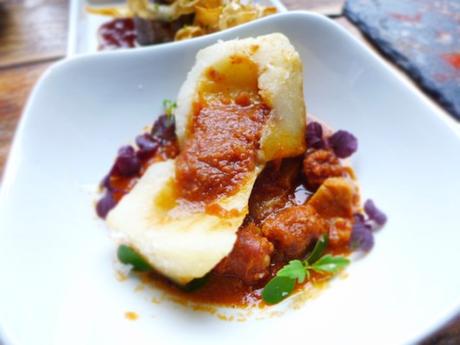 A cubed potato filled with chorizo and pork belly. Rioja, Glasgow
A cubed potato filled with chorizo and pork belly.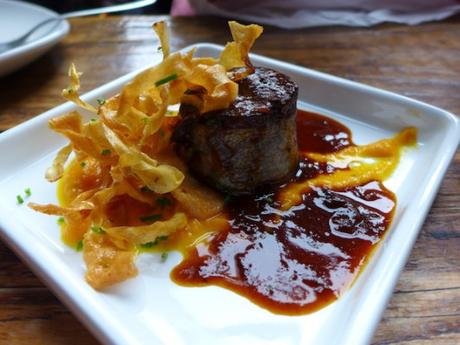 Oxtail with foie and wild mushrooms Rioja, Glasgow
Oxtail with mushrooms and foie.  Extremely meaty and tender.  Parnip crisps (would make a tasty bar snack) and juices which begged to have some bread dunked into it.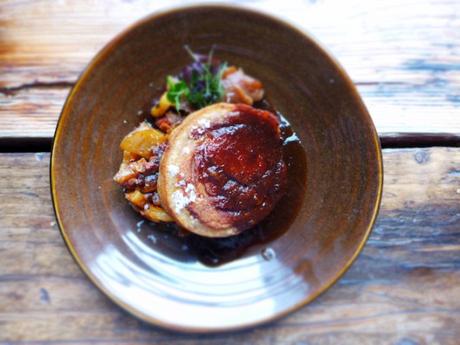 Tender suckling pig with apple and cinnamon compote. Rioja, Glasgow
Suckling pig, chorizo and  compote. Like pork belly fat – layers, one of fat, one of tender meat, with a crisp salty crackling skin.  Perfect. We were stuffed, but we took one for the team and ordered a Crema Catalana.  A Spanish Creme Brulee.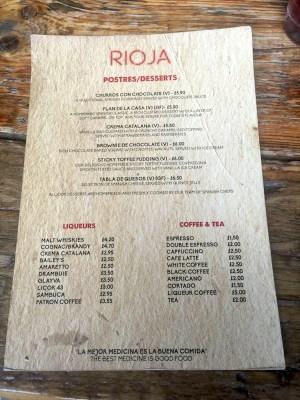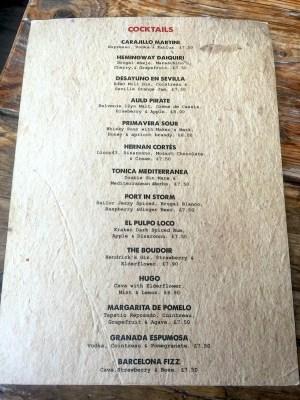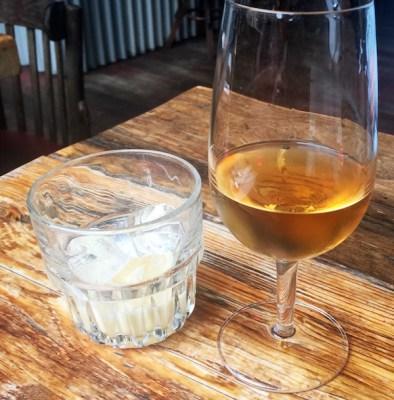 Torches la cave 'Goyesco' Amontillado Sherry. A pale amber sherry with a fig/dried fruit aroma but a bit too sour tasting for Mr Foodie so he swapped with Mrs Foodie's Crema Catalan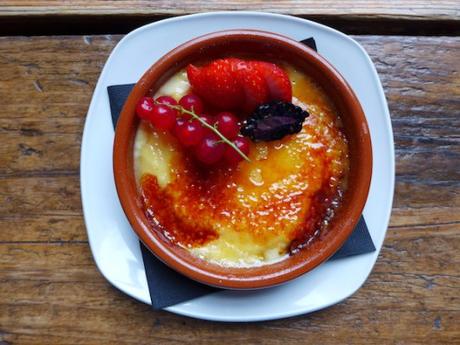 Crema Catalana. Rioja, Glasgow
The Crema Catalana had a cracking sugar topping, once crunched past letting your spoon dip into its smooth and creamy pudding.  Mrs Foodie was happy.
Overall
Friendly and helpful service, we asked for help with picking which of the modern tapas to try and were talked through the menu.  The ambience was relaxed with football on in the background (Euro's) that wasn't intrusive but there if you wanted to watch it.  The food was certainly on another level from your average tapas chain and from what we have had in Spain itself.  The bill came to £81 for two incl drinks.
TL:DR
+ fine dining tapas + chilled music – basic toilets
Location
Rioja 1116 Argyle Street, Glasgow, G3 8TD
Transport
 Located within walking distance of Exhibition Centre Railway Station. First Bus: 2, 3, 77 all pass nearby.
Rioja (FKA The Round) (98244), Glasgow/Lanarkshire Reservations

We dined as guests of Rioja and Fred can testify that it did not influence our thoughts. He would have been right in there to the plate of ceviche and the oxtail.