Mother India has been a staple for curry in my family since around 2000. It was my first experience of properly spiced fish and I'm glad to see the spiced haddock is still on the menu! It had been a while since I'd been and Mr Foodie had never been but was eager to find something better than his "just OK" Brick Lane curry.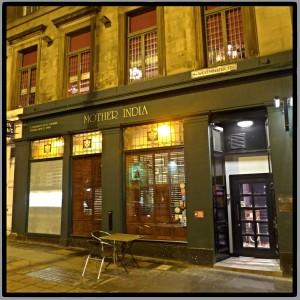 Mother India, Westminster Terrace, Glasgow
Mother India There are three levels and our favorite is the upstairs floor, it's dark, old-fashioned, wooden and candle lit.  It was a busy weekday night and thankfully we had booked as there was a bit of a queue – the area where you wait to be seated is a bit too small and it was unmanned when we arrived as staff were so busy, people were also queuing up for takeaway, but no problem as we had time to snack on the drumstick lollies that you'll find here!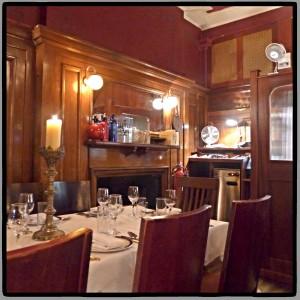 Mother India Interior (upstairs)
The room was packed when we arrived (definitely book even if it is mid-week) and we liked the look of the menu, lots of fish dishes, an intriguing lamb dish between two and a good selection of breads (especially healthier sounding ones).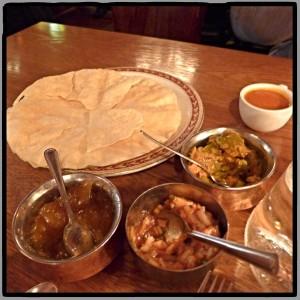 Poppadoms with mango chutney, spiced onions and pickle.
A stack of crisp poppadoms with a very sweet mango chutney, salty pickle and chunky spiced onions.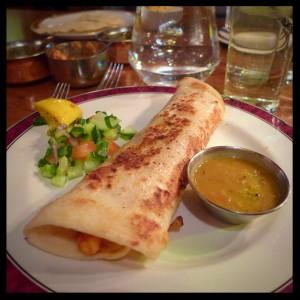 GINGER CRAB AND PRAWN DOSA
PRAWNS AND CRAB MEAT COOKED WITH GINGER PICKLE STUFFED IN A LENTIL RICE PANCAKE
£6.80
Prawn and crab wrapped in a lentil pancake.  Fluffy pancake with the prawn and crab not totally overpowered with spice with a pleasant amount of heat.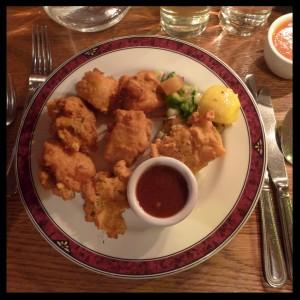 GINGER AND GREEN CHILLI FISH PAKORA
HADDOCK MARINATED IN A GINGER AND GREEN CHILLI PUREE AND DEEP FRIED WITH VEGETABLES
£6.20
Fresh cooked fish, good chunks, not mushy and not soggy like kebab shop pakora, of course! Then came the mild heat from the chilli…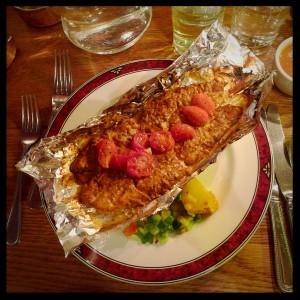 SPICED HADDOCK AND ROASTED TOMATOES
HADDOCK OVEN BAKED WITH A VARIETY OF PUNJABI SPICES AND ROASTED TOMATOES
£6.80
Nicely cooked fish and a good size for a starter, with fragrant spices and the moist tomatoes.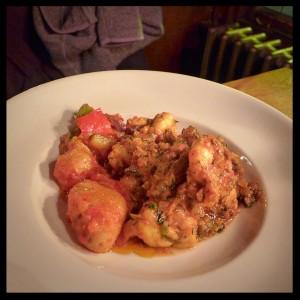 KING PRAWN AND MONKFISH WITH GINGER AND DILL
KING PRAWNS AND MONKFISH PAN-FRIED WITH ROOT GINGER, GARAM MASALA AND DILL
£15.50
Huge juicy prawns and chunky monkfish.  The base sauce was creamy and sweet.  Extremely fragrant sauce with caramel tones – and dill in a curry was a pleasant surprise.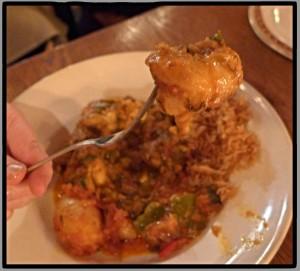 Huge delicious prawns
If this makes it any clearer, the prawns were absolutely huge!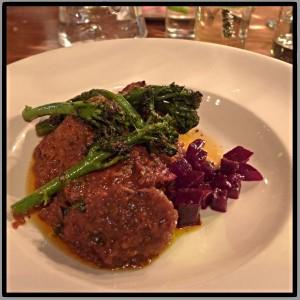 SMOKED LAMB WITH BROCCOLI AND GREEN CHILI
LAMB MARINATED WITH SPICES THEN SMOKED WITH CLOVES
£11.50
Melting lamb not drowned in sauce and not killed by chillies.  The broccoli and beetroot added an earthy taste that I wouldn't have expected to work with a curry, especially the beetroot, why isn't it used more often with Indian dishes in Glasgow?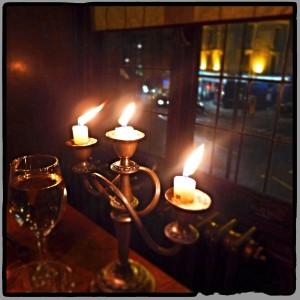 A perfect meal – the dishes were a bit different, they weren't over-spiced and nothing was cooked "within an inch of its life". I think  Mother India deserves its reputation as one of Glasgow's finest Indian restaurants. This meal for 3 including 2 cold (mix of soft and alcoholic) drinks and a coffee each came to £96.60. Service well-paced and professional, staff attentive and toilets clean but could do with some TLC.
We shall have to come back for the "Raan for 2 people" a leg of lamb slow cooked and served with a sweet almond sauce, mmm…
TL;DR
+ Not your usual selection of Indian dishes
+ Unusual flavor combinations
+ Prawns and monkfish huge
+ Possible the best Indian restaurant in Glasgow
- toilets clean but could do with some TLC
Menus:
A la carte menu
Set menu 1
Set menu 2
Take Away Menu
Opening Times:
Mon – Thurs 17:30 – 22:30*
Fri 12:00 – 23:00*
Sat 13:00 – 23:00*
Sun 13:00 – 22:00*
* last order